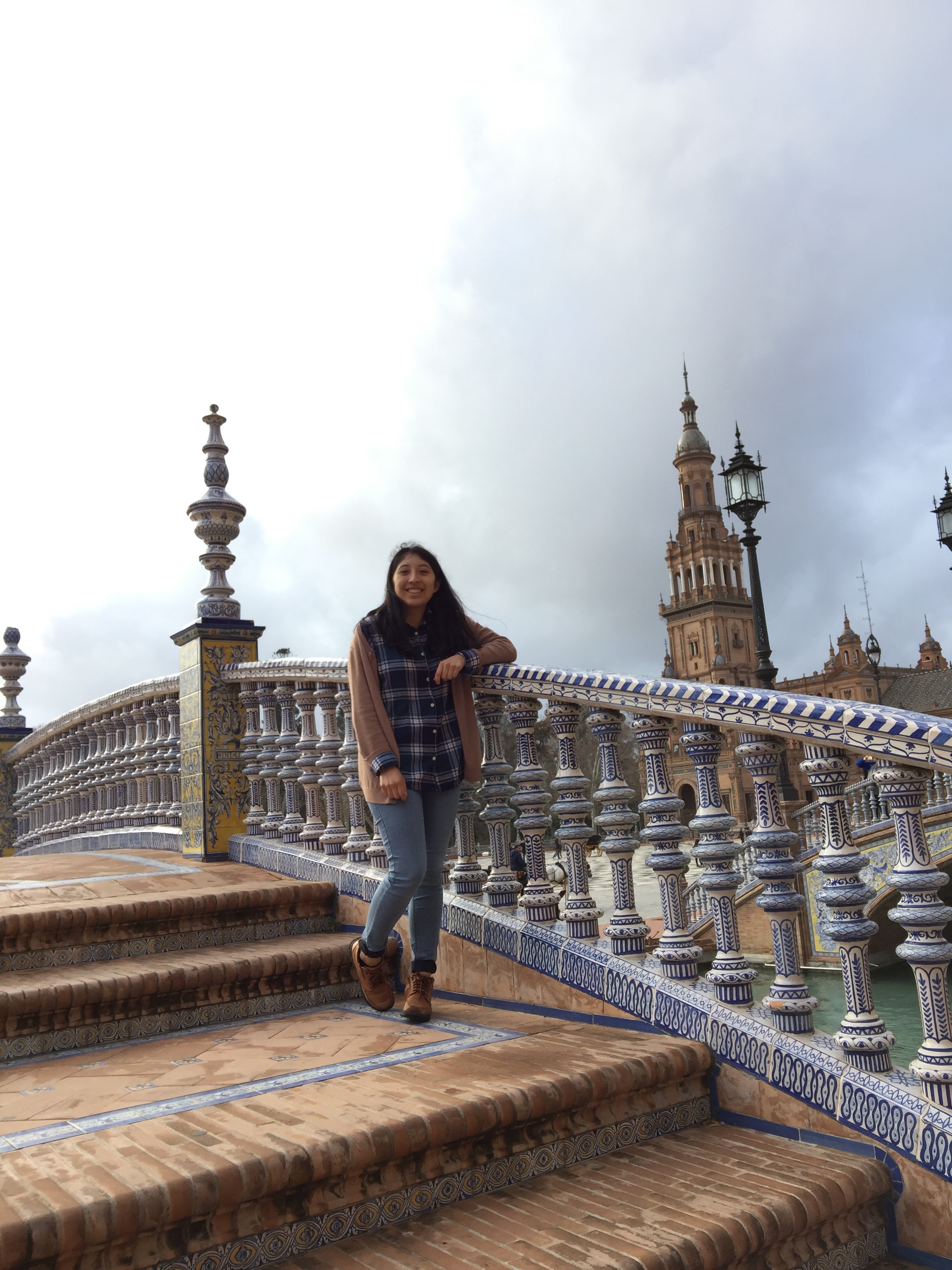 Name: Doris Serván-Alvarez
Major/Minor: Global Studies & Sociology with a minor in Spanish
Hometown: Lincoln, NE
Year at UNL: Sophomore

Favorite book and why: The Great Gatsby and Enrique's Journey. Both have something to do with achieving the American Dream, although they are nearly 100 years apart from one another.
Favorite dish/food and why: Honestly, anything that is Peruvian - Lomo saltado, Pollo a la brasa, Tallarines verdes, Ceviche, Inca Kola! I have been spoiled growing up with Peruvian cuisine from my family. Also, Spanish paella has become one of my favorites dishes while abroad!

Why Global Studies?
Choosing Global Studies as my major has been one of the most refreshing, eye-opening choices in my life. I changed my major to Global Studies it is interdisciplinary and I have many topics that I wanted to study at UNL. Global Studies offers you the opportunity to take classes within a spectrum of your thematic and regional specialization. My suggestion for new students within this major is to explore things you are interested in. Our advisor, Emira, is great with helping you find different study abroad experiences, internships, and what type of specialization you'd like to choose. Take classes that interest you, join clubs that share the same passions as you, talk to your professors or any faculty member about any questions you may have or just to learn about their experiences. Lastly, I highly suggest studying abroad!

Tell us about your study abroad/internship experience: I am currently studying abroad in Salamanca, Spain and taking classes with locals. I am taking Spanish Literature of the 19th century, Hispanic-Arabic Culture, Political Sociology, and Sociology of Crime. I have visited many cities in Spain through the program ISA, such as Madrid, Toledo, Segovia, Seville, Merida, and Ciudad Rodrigo. I hope to continue to learn about the Spanish culture by visiting the different regions, such as the Basque Country and Catalonia. I am volunteering to teach a small group of kindergarteners some basic English along with playing games with them. In between classes, my friends and I will sit in the plaza to chat and people watch as everyone walks by. The architecture of Salamanca is amazing and I still can't believe this is my home as I walk through my 800 year-old campus. It's a smaller city and reminds me a lot of Lincoln. They have outdoor gyms, a bike sharing program, and many great cafes to have some café con leche or churros con chocolate. Spain is amazing!
What are you post-graduation plans? I haven't decided if I would like to do post-graduate volunteer work or apply to graduate school for Public Policy or law school. My career goal is to be a bilingual liaison within the social justice field. I'd love to be involved with international relations, public policy, or community organizing too.