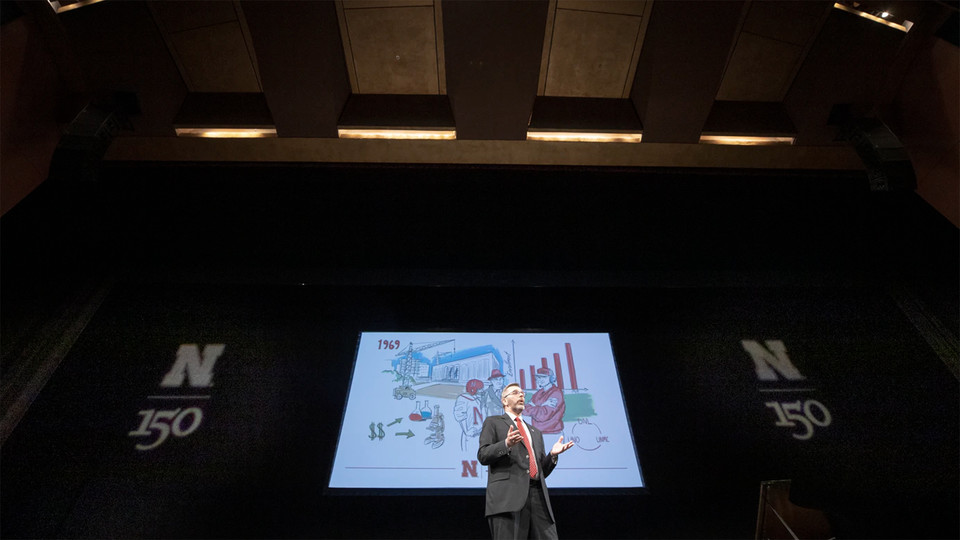 Chancellor Ronnie Green will deliver the 2020 State of Our University address Feb. 14, on the eve of the University of Nebraska–Lincoln's 151st birthday. The address will feature the university's new N2025 strategic plan.

The 10:30 a.m. presentation will be in the Nebraska Innovation Campus Auditorium, 2021 Transformation Dr., with lunch following.

The format will include a 30 minute talk by Green followed by brief presentations from the deans of each college and a question and answer session. Questions for the discussion can be pre-submitted via email to souquestions@unl.edu. An opportunity to submit questions during the presentations will also be available.

Building on the momentum of the university's 150th anniversary year and the work of the N150 Commission, the N2025 strategic plan was completed by a steering committee of 35 faculty, staff and students. It is a plan to drive the next five years of growth at the university, but also lays the foundation to build out the N150 Commission's bold vision for the next 25 years.

The committee was chaired by Rick Bevins, Chancellor's Professor and chair of psychology; Shane Farritor, Lederer Professor of Engineering; Angie Pannier, Maxcy Professor of Biological Systems Engineering; and Sue Sheridan, Holmes Professor of educational psychology and director of the Nebraska Center for Research on Children, Youth, Families and Schools.

The full strategic plan will be available on the Chancellor's website following the speech.

The event is free and open to the public, but RSVPs are due by Feb. 12 to get a headcount for lunch. Parking will be available in the campus visitor parking north of Transformation Drive. Bus route information is available.

For those who are not able to attend in person, the address will streamed live.