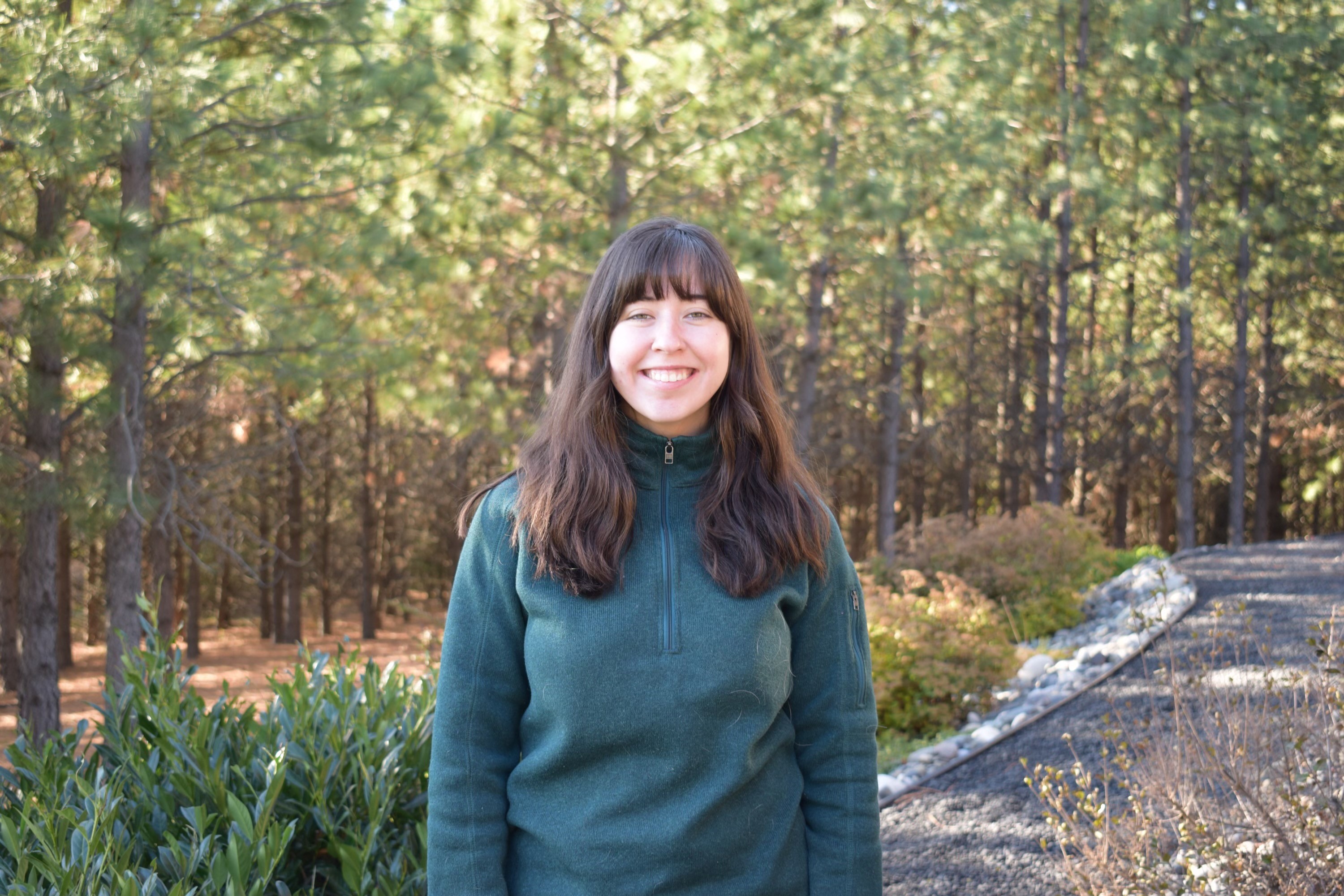 While drought is a climatological phenomenon, its broad effects require study beyond the climatology sphere. The National Drought Mitigation Center staff features numerous climatologists but also researchers who examine drought from social science perspectives. Recently, the NDMC added a staff member to its social sciences team. Maddie Goebel is the NDMC's new social science research assistant, and she is already working alongside social science coordinator Dr. Tonya Haigh on projects that explore how people who work in agricultural industries are affected by drought, and how planning ahead for droughts can ease some of the stress when they are faced with a drought. Goebel comes to the NDMC, located in the University of Nebraska-Lincoln School of Natural Resources, after earning her M.S. in Natural Resources at the University of Idaho. While getting her masters, she worked with the Idaho Water Resources Research Institute, and researched risk and behavior in Idaho's Coeur d'Alene Basin.
"Maddie brings really useful social science skills and experiences to the NDMC," Haigh said. "It's exciting to expand our capacity for understanding the drought management challenges of farmers, ranchers, and other decision-makers in order to provide the most useable information and resources we can."
In her first weeks at the NDMC, Goebel has helped conduct a pre-survey of U.S. Drought Monitor Forum participants to help determine what subjects they hoped would be discussed. She and Haigh are also working with partners at several of the USDA (United States Department of Agriculture) Climate Hubs to survey users of the Grass-Cast forage productivity tool. The tool is designed to help ranchers forecast forage productivity in the upcoming growing season using below-normal, near-normal, and above-normal precipitation scenarios, based on nearly 40 years of data. While drought mitigation is a new subject for Goebel, risk communication is not, and she said she is looking forward to having conversations with people who do or could use resources like Grass-Cast to learn how it has worked for them, or what would encourage them to use it.
"The reason I like social science is that we can have these amazing tools like the Drought Monitor and Grass-Cast, but you also have to understand the people that are going to use those tools," Goebel said.
At the NDMC, Goebel will be talking directly with ag producers about how they prepare for and react to drought. She said she is looking forward to conducting field interviews, in part for selfish reasons. She's a horseback rider who doesn't have any horse connections in Nebraska, yet.
Get to know Maddie Goebel with this Q&A.
What drew you to the NDMC?
I was really interested in the opportunity to learn more about drought and work with agricultural producers to understand how they're learning to cope with drought. I'm also originally from Ohio so I thought it might be fun to return to the Midwest. (Dare I say I missed the corn fields?)
What aspect of working in an educational setting do you enjoy the most?
I appreciate the opportunity to work alongside students and professionals who are passionate about increasing our collective knowledge on a variety of topics.
What do you consider your greatest achievement?
I'm going to cheat and say two achievements. First, surviving graduate school during a global pandemic was incredibly validating. Graduate school is already challenging, but to have to adapt my thesis project at the last minute because of COVID-19 was especially trying. Second, I learned how to snowboard last year while living in Idaho and it's the coolest activity I've learned to do as an adult.
What is something that most people don't know about you?
One of my earliest memories is my uncle "jokingly" threatening to throw my Beanie Babies out the window of a ski lift in Telluride, Colorado. We've since reconciled. I also lived in the same dorm building that Jeffrey Dahmer stayed in during his time at Ohio State.
What is your life like outside of work?
Before moving to Lincoln, I spent a lot of time in the mountains, on rivers, and riding my horse at my parents' farm. Since moving to Lincoln, I've been getting back into running and hope to join the local climbing gym soon. I love trying out new breweries and coffee shops. I also spend a lot of time with my cat, Betty. This winter I'm looking forward to hitting the slopes in Colorado as much as possible.
—Cory Matteson, NDMC Communications
More details at: http://drought.unl.edu