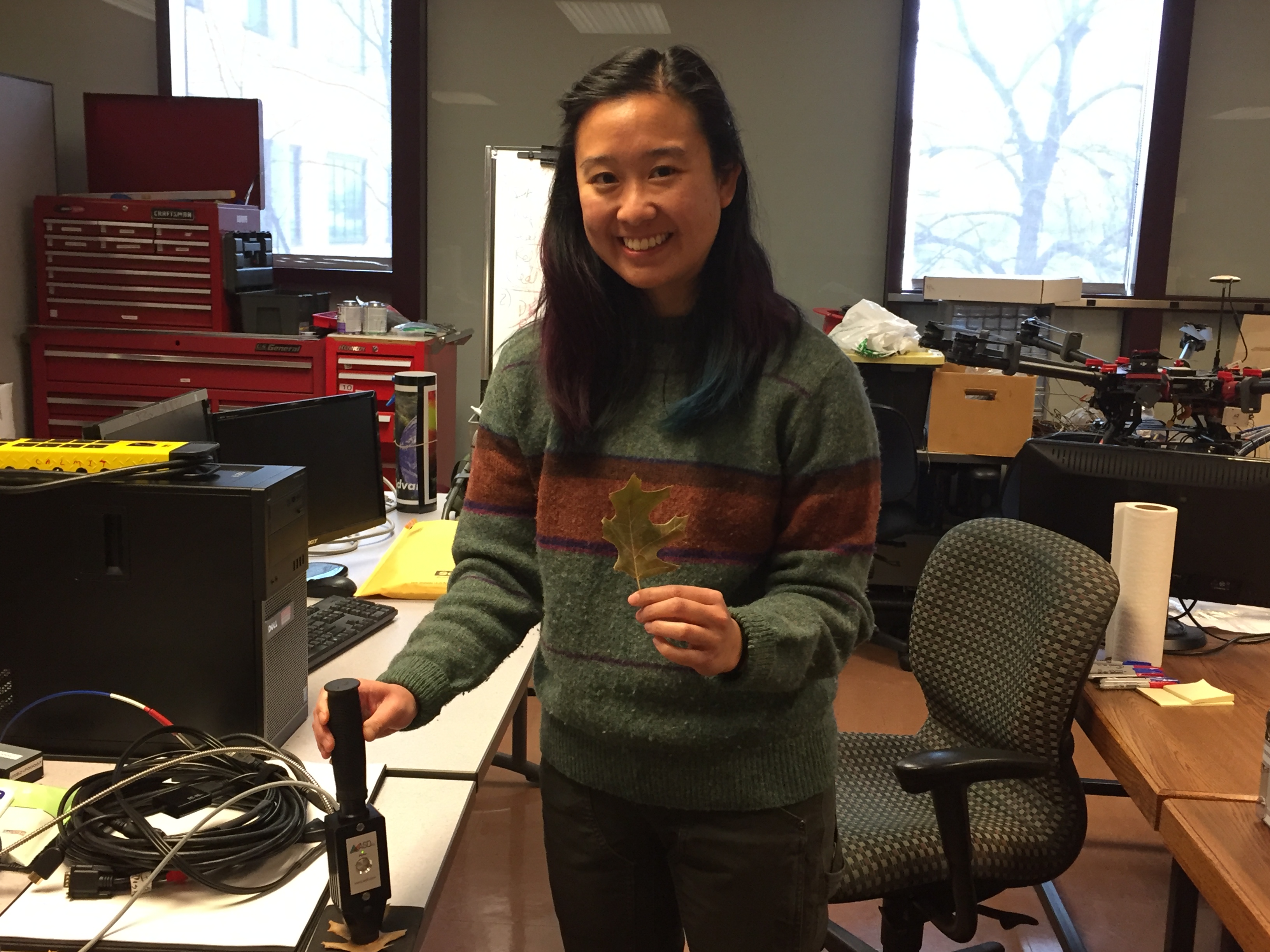 Catherine Chan came from New England to Nebraska, looking for a change of pace. She found the more relaxed lifestyle she craved in, of all places, her doctoral program.
Chan is using remote sensing to research plant diversity through the School of Natural Resources on East Campus.
"I'm very glad that I'm on East Campus because it's such a quiet, relaxing campus," she says. "It just feels like I can work on what I would like to work on rather than other things."
Chan is analyzing remote sensing data, digital images taken by the Center for Advanced Land Management Information Technologies by plane in 2019. On her computer, she lays shapefiles over the images and then examines bands and spectral data from the images, studying tree cover in different plots of land in Indian Cave State Park near Shubert, Neb.
The park had red cedars spreading in it a while back but most were removed mechanically, she said. Her research concern is less about specific invasive plants and more about general plant diversity.
"It's really more of a test to see what this methodology can show," she says. "One of my questions is seeing how spectral diversity or composition vary among management units both in space and over time."
The park runs along the Missouri River and is heavily forested but also has areas solely of grass. Chan plans to examine the spectral diversity of the remote sensing images to infer biodiversity on the ground and aid in conservation efforts.
"Biodiversity is a topic of concern right now globally," she says. "Monitoring loss in areas and possibly gain in others is really important to understand where we are and where we're going. Using remote sensing data, hopefully, makes things a little more convenient."
Convenience is a huge selling point for Chan on her research and the state of Nebraska itself.
"Things feel very convenient here," she says. "A lot of tasks that I might have to complete in other situations, it feels more of a job in itself. Sometimes things here feel a little bit more well equipped."
She has found that if she doesn't have enough storage on her computer for a task, her advisor, Yi Qi, or lab mates will suggest ways to get around that, like free cloud storage sites. Her advisor might offer her another computer to supplement other needs. Sometimes, people help her adjust her project.
"Some of the problems that I might have foreseen or anticipated aren't as big of a problem, so I can focus on the bigger research," she says.
She continues to fine-tune her research questions and what her dissertation will be on.
"I'm in the thick of it," Chan says. "It really feels like where you are kind of going back and forth between trying to figure out what questions you can ask and what you need to answer those questions. You have to figure out what is available to you datawise and what support you can get and how you can get it. I think that that is very real world, and my ultimate goal is to basically ask any research question and figure out how to answer it."
The experience is unsettling, she says, but she has become more flexible and strategic in research planning.
"It almost feels good to be struggling through this because I can feel that this is a learning experience," she says.
She sought her doctoral degree to gain more confidence in her research abilities and have more independence and autonomy.
"I like to think that with this extra experience or background, I can help in deciding what are important questions and what is worth pursuing," she says.
She plans to continue in research for her career, possibly in a national lab, and expresses gratitude to all the Nebraskans who welcomed her to their state, embodying the old state slogans of "Nebraska nice" and "the good life."
"I feel very well supported, both by the NRT program and the School of Natural Resources," she says. "Overall, I just think that everyone here is very welcoming and open. I like where things are."
— Ronica Stromberg, NRT Program Coordinator
More details at: https://nrt.unl.edu