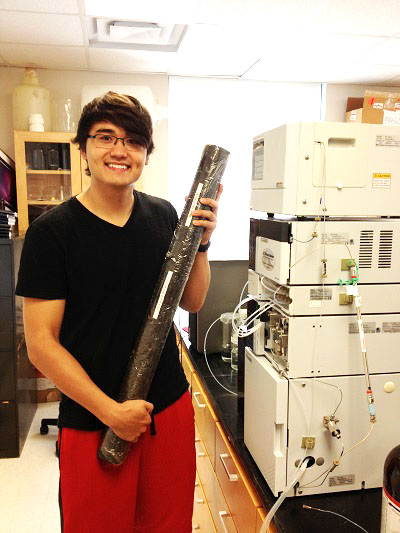 The typical collegiate confusion that comes with picking a major didn't faze James Reece.

"During my first few years here at UNL, I didn't know what I wanted to major in," said Reece, a senior environmental restoration science and environmental studies double major. "But I did know that I loved science."

Reece's affinity for science ran deep, especially after being part of a team that went to the National Middle School Science Bowl when he was in the eighth grade.

After taking a wide variety of classes during his freshman and sophomore years, Reece found himself in classes that focused on the environment.

"I took a few classes that emphasized the importance of the environment around us and brought to light many issues that I believe are important," he said. "So I decided I wanted a career that would allow me to use chemistry, biology and physics to help restore and maintain the health of the soil, water and air around us."

Reece said the job experiences he's been afforded because of his SNR education have provided him with invaluable opportunities.

"I had a great time with my research assistant position for the agronomy department," he said. "I got to ride on the back of a planter, learned how much work goes into crop research and how important this research is to feeding the world."

Fast-forward to Reece's senior year, and he's busier – and more active within SNR – than ever.

"He is an excellent student who excelled in my Soils, Environment and Water Quality (NRES 361) course," said Steve Comfort, professor and soil environmental chemist. "For that reason, I hired him to TA the class for the following year. This was a good move because many students felt comfortable going to him for help."

Comfort also serves as Reece's adviser for his UCARE project.

"We are improving slow-release permanganate candles (SRPC), which is a method of treating contaminated groundwater," Reece said. "I've gained valuable skills and knowledge by running my own experiments."

As a student, Comfort said Reece's dedication and reliability are standout qualities.

"He came to introduce himself and let me know that he was interested in the major," Comfort said. "Once I hired him as an hourly student, he showed me that he was very reliable. He is now doing research on his own and can run most of the instruments in the lab."

When Reece isn't being a TA or in the lab conducting research, he can be found in the production booth of 89.3 FM KZUM, a non-profit, community radio station.

Reece's weekly program, "Mental Instrumentals," is broadcast from midnight Wednesday to 2 a.m. Thursday.

"I play music without lyrics so people can focus on other stuff, like studying, while they listen," Reece said. "KZUM gives a voice to many underrepresented groups in Lincoln, which means their programming is very diverse."

Reece plans to graduate in December 2014, at which point he aims to pursue graduate studies or a career with an environmental consulting firm or government agency.

"I'm anxious to get out there and start fixing some of the problems that I've been hearing about," he said. "My classes have been so diverse that I feel like I am prepared for a wide variety of careers dealing with natural resources."

— Mekita Rivas, Natural Resources

Do you know a stellar SNR student who should be spotlighted in an issue of Inside SNR? Send his or her contact information to mrivas@unl.edu.