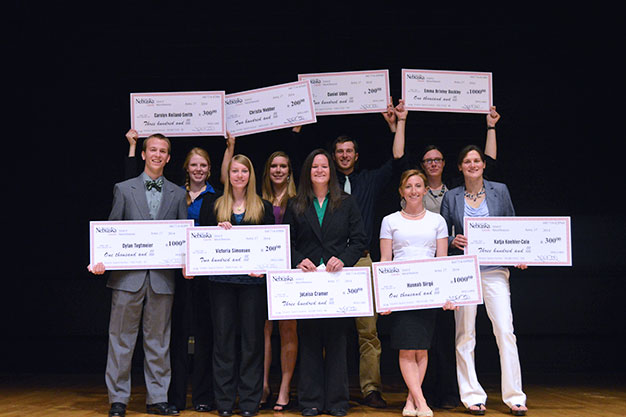 The inaugural SNR Elevator Speech Contest took place at 7 p.m., April 17 in the Hardin Hall auditorium. The contest was held in conjunction with the SNR GSA Poster Symposium. Final placements in three contest categories, in addition to the poster symposium winners, were announced.

Final placing:

Undergraduate
1. Dylan Tegtmeier
2. Carolyn Reiland-Smith
3. Victoria Simonsen

Master's
1. Emma Brinley Buckley
2. JoLeisa Cramer
3. Christa Webber

Doctorate
1. Hannah Birgé
2. Katja Koehler-Cole
3. Daniel Uden

Poster symposium winners:

Undergraduate: Cain Silvey
Master's: Karla Jarecke
Doctorate: Maggi Sliwinski
Popular vote: Lindsey Messinger

Videos of the finalists for the 2014 SNR Elevator Speech Contest are now on the SNR website at http://go.unl.edu/snrelevatorspeech.

Congratulations to all of the participants and thank you to those who attended these events.
More details at: http://go.unl.edu/ferg