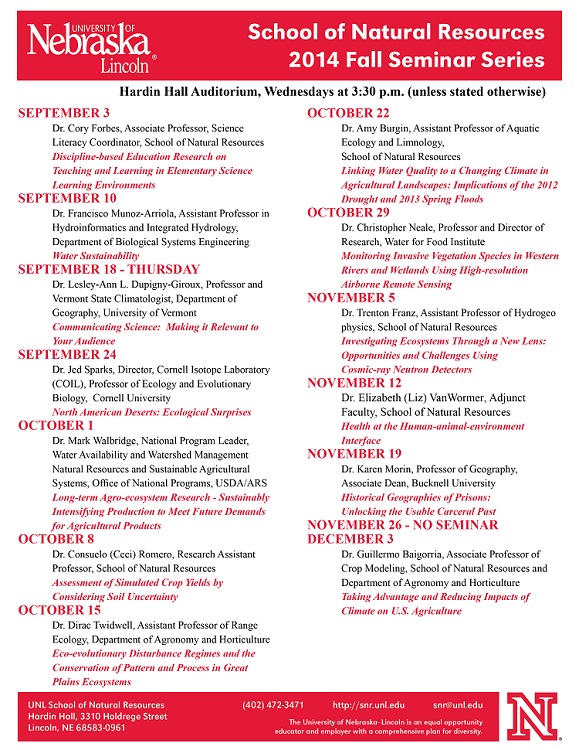 An updated version of the 2014 SNR fall seminar series schedule has been announced. The series features 13 presentations that will kick off on Sept. 3 and conclude on Dec. 3. All presentations will take place at 3:30 p.m. on Wednesdays in the Hardin Hall auditorium (unless otherwise stated).

Schedule:

September 3
Cory Forbes, associate professor, science literacy coordinator, School of Natural Resources
"Discipline-based Education Research on Teaching and Learning in Elementary Science Learning Environments"

September 10
Francisco Munoz-Arriola, assistant professor in hydroinformatics and integrated hydrology, Department of Biological Systems Engineering
"Water Sustainability"

September 18 - THURSDAY
Lesley-Ann L. Dupigny-Giroux, professor and Vermont state climatologist, Department of Geography, University of Vermont
"Communicating Science: Making it Relevant to Your Audience"

September 24
Jed Sparks, director, Cornell Isotope Laboratory (COIL), professor of ecology and evolutionary biology, Cornell University
"North American Deserts: Ecological Surprises"

October 1
Mark Walbridge, national program leader, Water Availability and Watershed Management Natural Resources and Sustainable Agricultural Systems, Office of National Programs, USDA/ARS
"Long-term Agro-ecosystem Research - Sustainably Intensifying Production to Meet Future Demands for Agricultural Products"

October 8
Consuelo (Ceci) Romero, research assistant professor, School of Natural Resources
"Assessment of Simulated Crop Yields by Considering Soil Uncertainty"

October 15
Dirac Twidwell, assistant professor of range ecology, Department of Agronomy and Horticulture
"Eco-evolutionary Disturbance Regimes and the Conservation of Pattern and Process in Great Plains Ecosystems"

October 22
Amy Burgin, assistant professor of aquatic ecology and limnology, School of Natural Resources
"Linking Water Quality to a Changing Climate in Agricultural Landscapes: Implications of the 2012 Drought and 2013 Spring Floods"

October 29
Christopher Neale, professor and director of research, Water for Food Institute
"Monitoring Invasive Vegetation Species in Western Rivers and Wetlands Using High-resolution Airborne Remote Sensing"

November 5
Trenton Franz, assistant professor of hydrogeophysics, School of Natural Resources
"Investigating Ecosystems Through a New Lens: Opportunities and Challenges Using
Cosmic-ray Neutron Detectors"

November 12
Elizabeth (Liz) VanWormer, adjunct faculty, School of Natural Resources
"Health at the Human-animal-environment Interface"

November 19
Karen Morin, professor of geography and associate dean, Bucknell University
"Historical Geographies of Prisons: Unlocking the Usable Carceral Past"

November 26 - No seminar

December 3
Guillermo Baigorria, associate professor of crop modeling, School of Natural Resources and Department of Agronomy and Horticulture
"Taking Advantage and Reducing Impacts of Climate on U.S. Agriculture"

To download a PDF copy of the schedule, visit http://go.unl.edu/7mrd.

Questions about the 2014 SNR fall seminar schedule can be directed to Tala Awada, professor of plant ecophysiology, at tawada2@unl.edu or 402-472-0232.