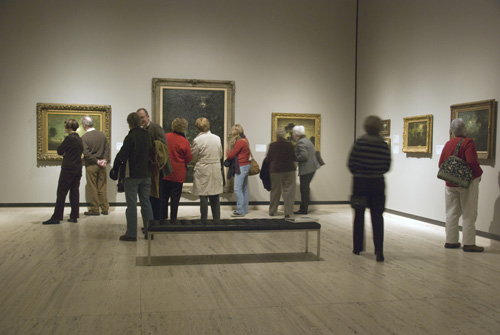 The Sheldon Museum of Art at the University of Nebraska-Lincoln is looking for volunteers to join its docent program, which celebrates its 50th anniversary with the 2014-15 academic year.

Since 1964, Sheldon docents have provided tours of the museum's collection and exhibitions. They are educators and art lovers who support the museum's mission by being ambassadors for the arts.

Applicants do not need to have backgrounds in art history or be art teachers. They need only an interest in art and the ability and desire to interact with people of all ages and backgrounds.

Some docents provide interactive tours of the museum for elementary and middle school youth, while others travel to assisted-living communities to share images of current exhibitions with people unable to visit the museum.

Docents attend a training course that concentrates on Sheldon's permanent collection, outdoor sculpture garden, special exhibitions, and engagement strategies.

The deadline to apply for the training course for docents is Aug. 8. The course begins at 9 a.m. Aug. 18. The group meets Monday and Thursday mornings through September (except Labor Day) with additional briefing sessions on the second Monday of each month throughout the school year. Sessions include gallery talks by artists and presentations by museum staff and other specialists about the exhibitions, educational methods, and touring tips.

Additional information is available by contacting Erin Poor, assistant curator of education, at 402-472-2092. Applications are available at the museum or may be downloaded at http://go.unl.edu/br7i.

Sheldon Museum of Art, 12th and R streets on the UNL City Campus, houses a permanent collection of more than 12,000 objects focusing on American art. Sheldon is open free to the public during regular hours: Tuesday, 10 a.m. to 8 p.m.; Wednesday through Saturday, 10 a.m. to 5 p.m.; Sunday, noon to 5 p.m. The museum is closed on Monday. For more information, go to http://www.sheldonartmuseum.org.