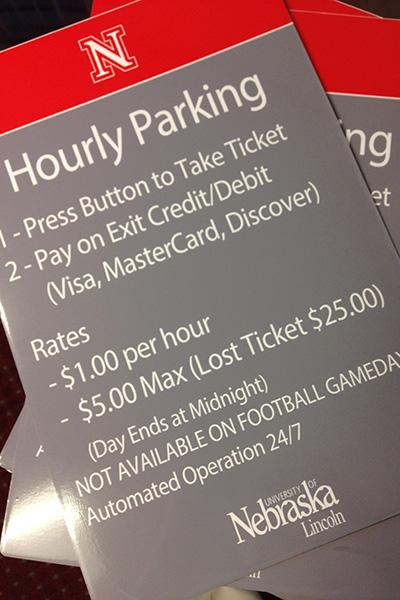 Parking options at UNL are expanding to include a pay-by-hour service in three City Campus garages.

The service, which goes live after UNL's spring break (March 23-27), will be available in garages at 17th and R streets, 14th and Avery streets, and 625 Stadium Drive. Fees are $1 per hour or a $5 daily maximum, with payment made via debit/credit card machines upon exiting a garage.

The $5 maximum is the same rate Parking and Transit Services charges for a single-day parking permit.

"The pay-by-hour option is being offered as a convenience to the university community and visitors," said Dan Carpenter, director of Parking and Transit Services. "It's another way we are being flexible to meet campus parking needs."

Park-by-hour users will be issued time-coded tickets at a garage gate. The ticket is used at garage exit to determine parking fees owed. Without a ticket, the exit fee increases to $25.

Each garage will offer a limited number of the pay-by-hour parking spaces. Carpenter said 200 of the spaces will be available in the Stadium Garage, with 50 each in the other two parking facilities.

Acceptable credit cards are Visa, Master Card and Discover. The pay-by-hour service will not be available on Husker football game days.

Construction and testing of the system is ongoing. When complete, cash payments for short-term parking will no longer be accepted at the Stadium Garage.

For more information on parking at UNL, go to http://parking.unl.edu or call 402-472-1800.
More details at: http://go.unl.edu/6ahp