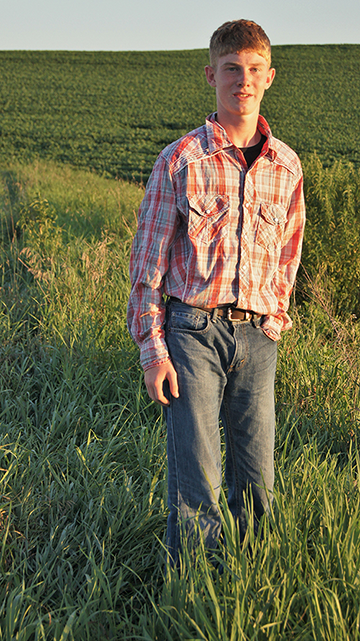 Name: Bryan Petersen

Hometown: Herman, Nebraska

Major: Applied Climate Science

Anticipated date of graduation: May 2020

Why did you decide to come to University of Nebraska-Lincoln?
I decided to enroll at the University of Nebraska-Lincoln, because it was one of the only universities with this major. Because I grew up on a family farm in Nebraska, I wanted a major that integrated some agriculture classes into the degree, and I always have been interested in meteorology and climatology. So, applied climate science was the perfect fit, since the major description is how the climate impacts society as well as agricultural and natural resource systems.

What is your favorite thing about the university?
My favorite thing about being a student at the University of Nebraska – Lincoln is being part of a large student enrollment, but it still has that one-to-one feel between students and professors. Everyone at the university is very welcoming and personable. This makes it very easy for students to build connections with their professors, which is essential in a successful and knowledgeable college career.

What is your favorite class and why?
One of my favorite classes was METR 100: Weather and Climate. In this course, I learned the physical behavior of the atmosphere and the basics elements of weather and climate. One of the reasons why I enjoyed the class was because the professor would usually talk about the current weather before the lecture of the day. I always enjoyed how he applied the previous material we learned in lecture to current conditions of the atmosphere.

What are your plans following graduation?
Since I'm only in my second semester of college, I'm not completely certain what I will doing after May 2020, but right now I'm leaning toward going to graduate school to study agricultural meteorology.

What is life like outside of school?
Outside of classes, I like to remain busy with other activities. Currently, I'm a member of the American Meteorological Society, the Global Ag Club, the UNL Soil Judging team, and the UNL FFA alumni. When I'm not at student organizations, I work at the NRCS soil lab as a part-time job. In my free time, I like to go to the rec or go on a run with the university running club, and during the long weekends and breaks, I usually go back home to help on the farm.