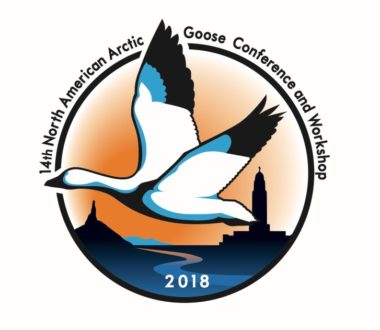 The North American Arctic Goose Conference and Workshop, an international event devoted to research and management of geese and their habitats, will be hosted in the heart of the Central Flyway in Lincoln, Nebraska, from March 13-17, 2018.

This will be the 14th NAAGC, building on a tradition that goes back more than 40 years. The event is the premier meeting for bringing together researchers, waterfowl managers, conservationists, and students who share an interest in and passion for geese. More than 150 waterfowl professionals, students, and enthusiasts from around the world are expected to attend.

As the largest goose-focused meeting in North America, NAAGC plays an important role in gathering together scientists and managers to present contemporary goose research and identify the most important topics for goose management and conservation for the 21st century. Plenary talks, contributed presentations and posters, special sessions, and workshops are planned. An optional field trip on Saturday, March 17, will include a tour of the Rainwater Basin and Central Platte River region that hosts millions of ducks and geese during spring migration.

Plenary speakers will open each of six sessions covering a variety of goose research topics. They include:


Stuart Bearhop (University of Exeter) will discuss body condition, behavior, and response to agriculture and population limitations of annual cycle events.

Joël Bêty (Université du Québec à Rimouski) will present on the effects of geese on other animal and plant species in the Arctic.

Andrew Raedeke (Missouri Department of Conservation) will speak on social science perspectives of goose hunting, harvest, and management.

Joel Schmutz (U.S. Geological Survey Alaska Science Center) will discuss the trophic dynamics of geese and their food supply.

Mark Vrtiska will consider the changing distributions of wintering and staging geese, and other issues associated with them, including the impact of agriculture.

Mitch Weegman (University of Missouri) will explore aspects of the distribution and movement of geese, including the efficacy of the latest technology used to track them.


Online registration for the conference is available here. For those wanting to hold a special workshop or associated meeting, please contact Mark Vrtiska, Nebraska Game and Parks Commission, at mark.vrtiska@nebraska.gov and provide information on workshop/meeting topic and length, estimated attendance, audio/visual requirements, and other pertinent details. Please contact Dana Varner at dana_varner@fws.gov with any other questions.

Co-hosts for the event are the Nebraska Game and Parks Commission, Rainwater Basin Joint Venture, University of Nebraska-Lincoln, Nebraska Cooperative Fish and Wildlife Research Unit, University of Nebraska-Kearney, and Ducks Unlimited–Nebraska.

For Inside SNR

More details at: http://rwbjv.org/2018-naagc/