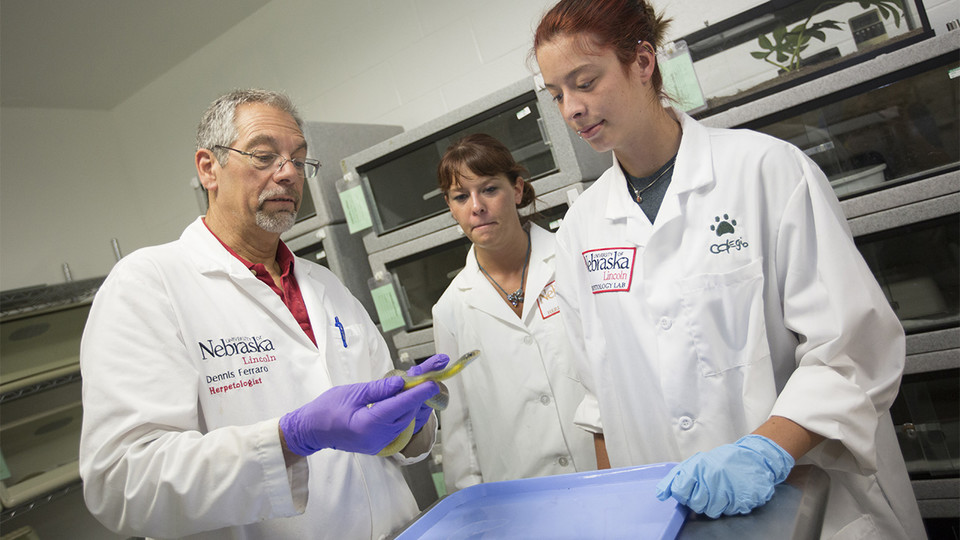 The University of Nebraska State Museum's Sunday with a Scientist program for children and families will focus on snakes, nanotechnology and protein in early 2018.

The events, which are 12:30 to 4:30 p.m. the third Sunday of each month at Morrill Hall, 645 N. 14th St., highlight the work of scientists while educating visitors on science and natural history topics. The museum is now open one hour earlier on Sundays.

Upcoming events are:


Jan. 21: "Snakes of Nebraska's Great Plains: Live and Up Close" – Dennis Ferraro, professor of practice in natural resources at the University of Nebraska-Lincoln, will help visitors learn about slithering specimens and the importance of snake conservation. There will be live snakes for viewing and hands-on activity stations where visitors can learn about identification techniques and what snakes eat.


Feb. 18: "Big Science, Small Scale" – Representatives from the Nebraska Center for Materials and Nanoscience will lead activities related to nanotechnology. Visitors can also view the temporary exhibit "Nano" to learn about small-scale science, technology and engineering.


March 11: "Seeing the Invisible" – Limei Zhang, assistant professor of biochemistry at Nebraska, will help visitors understand what a protein is and why it is important to uncover its structure to determine its function.


"Sunday with a Scientist is one of my favorite museum programs because visitors can talk about science directly with scientists," said Susan Weller, director of the NU State Museum. "Our faculty are excited to share their love of research with visitors and answer the variety of questions they get asked. This popular program is one of the reasons we're changing our Sunday hours to open at 12:30 p.m. Now there will be more time for members and other visitors to enjoy this unique, highly interactive program."

For more information, click here.

Nebraska Today

More details at: http://museum.unl.edu/sundaywithascientist/