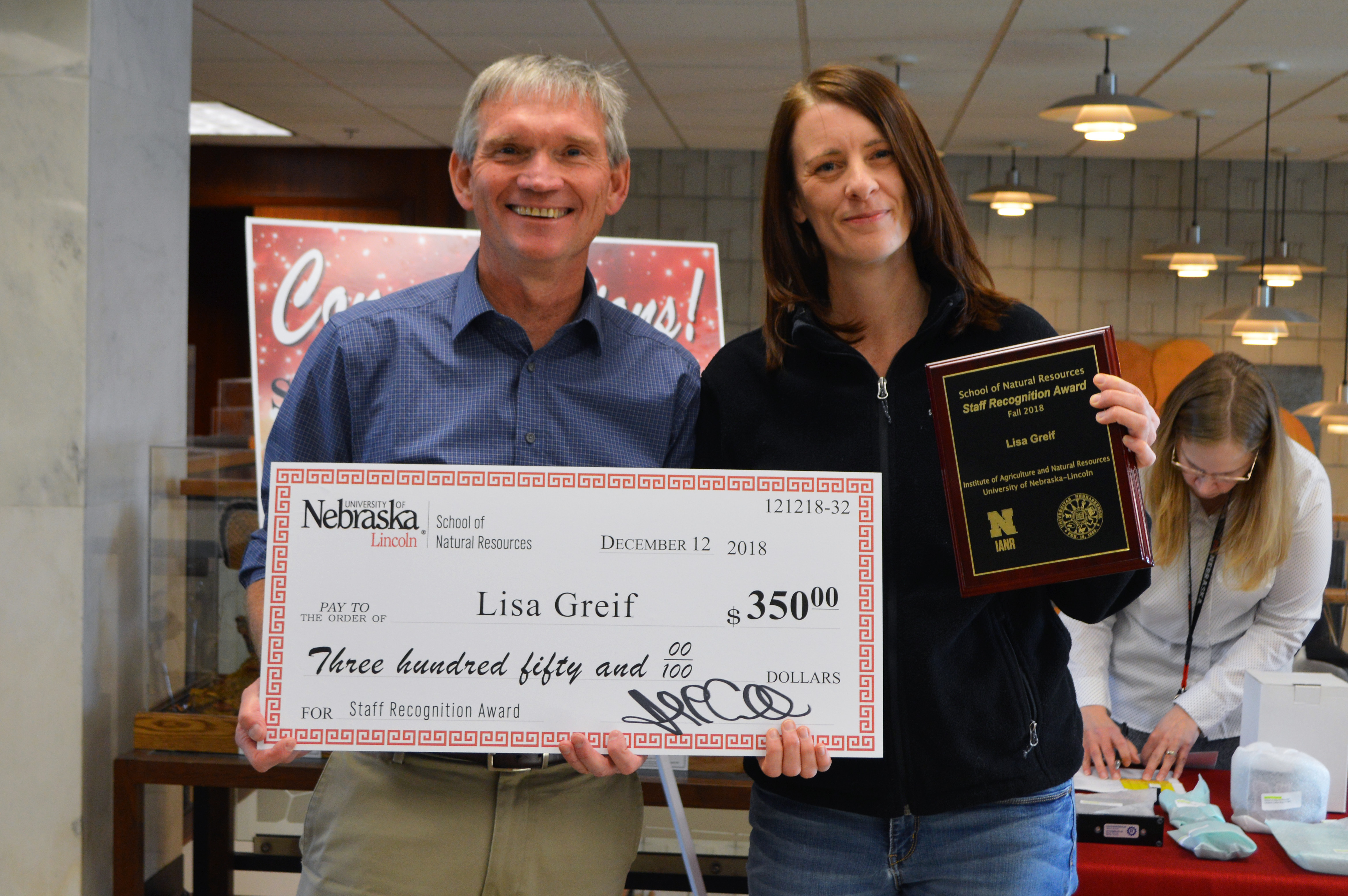 Recent awards and honors were earned by SNR staff and students: Lisa Greif, sales associate for Nebraska Maps and More Store; and Diane Lally, environmental studies doctoral student and teaching assistant.

Greif earns fall 2018 Staff Recognition Award
Lisa Greif, sales associate for the Nebraska Maps and More Store in the School of Natural Resources, earned the fall 2018 SNR Staff Recognition Award. She was presented with the award at the SNR Get Together in late December.

"Lisa's position is forward-facing to the public, and to our students, staff and faculty," wrote one of her nominators. "In that capacity, she is often the first person within SNR that our clientele meet face-to-face or over the phone. Lisa uses those initial interactions to make SNR and UNL shine. She provides outstanding customer service, answers inquiries, and matches customers to products and available expertise within SNR."

As a sale associate, Greif helps order products for the store, which includes everything from books to toys, and arranges the floor. She in an integral part of both the store and the school's daily operations.

"Lisa's service and dedication to SNR are on display every day, in big and small ways," wrote another nominator. "Lisa recently helped with planning and executing the reconfiguration of the aerial photo and back stock room to incorporate the new Shipping & Receiving Room. This project involved lots of details and lots of work, and Lisa's efforts contributed to its successful completion."

The SNR Staff Advisory and Professional Development Committee (SAPDC) is charged with coordinating the SNR Staff Recognition Award. The awards are presented once in the fall and once in the spring.

The purpose of this award is to recognize the positive contributions of SNR/NRBC staff. Selection is based entirely on nominations received. The committee does not seek additional information or use personal experience in evaluating nominees to prevent selection bias. Nominations forms are based upon the following criteria:


Exceptional service and dedication to SNR

Creativity and innovation on the job

Ability to interact with faculty, staff, students and clientele


The recipient receives a plaque and $350 stipend.

Lally earns 2019 Outstanding Teaching Assistant award
Diane Lally, environmental studies doctoral student and teaching assistant; has earned a National Association of Geoscience Teachers Outstanding Teaching Assistant Award.

The award honors undergraduate and graduate students who have demonstrated excellence as Teaching Assistants. Lally was nominated by Dr. Cory Forbes, science literacy professor at SNR, for her work in the undergraduate course Science Literacy 109: Water in Society.

"Diane has been an integral member of our project team and is engaged in scholarship that reflects her undergraduate geoscience teaching and research interests," Forbes wrote. "Diane is highly responsive to students and has shown very adept at both encouraging and advancing students' thinking. Whether in full course periods or lab/discussion sections, she uses an array of research-based pedagogical strategies to support students' learning."

NAGT recognizes outstanding teaching assistants in geoscience education with up to 30 awards annually. Both undergraduate and graduate teaching assistants are eligible, and winners receive a one-year membership to the organization that includes an online subscription to the Journal of Geoscience Education and their quarterly magazine. Lally was one of five to earn the award in 2019.