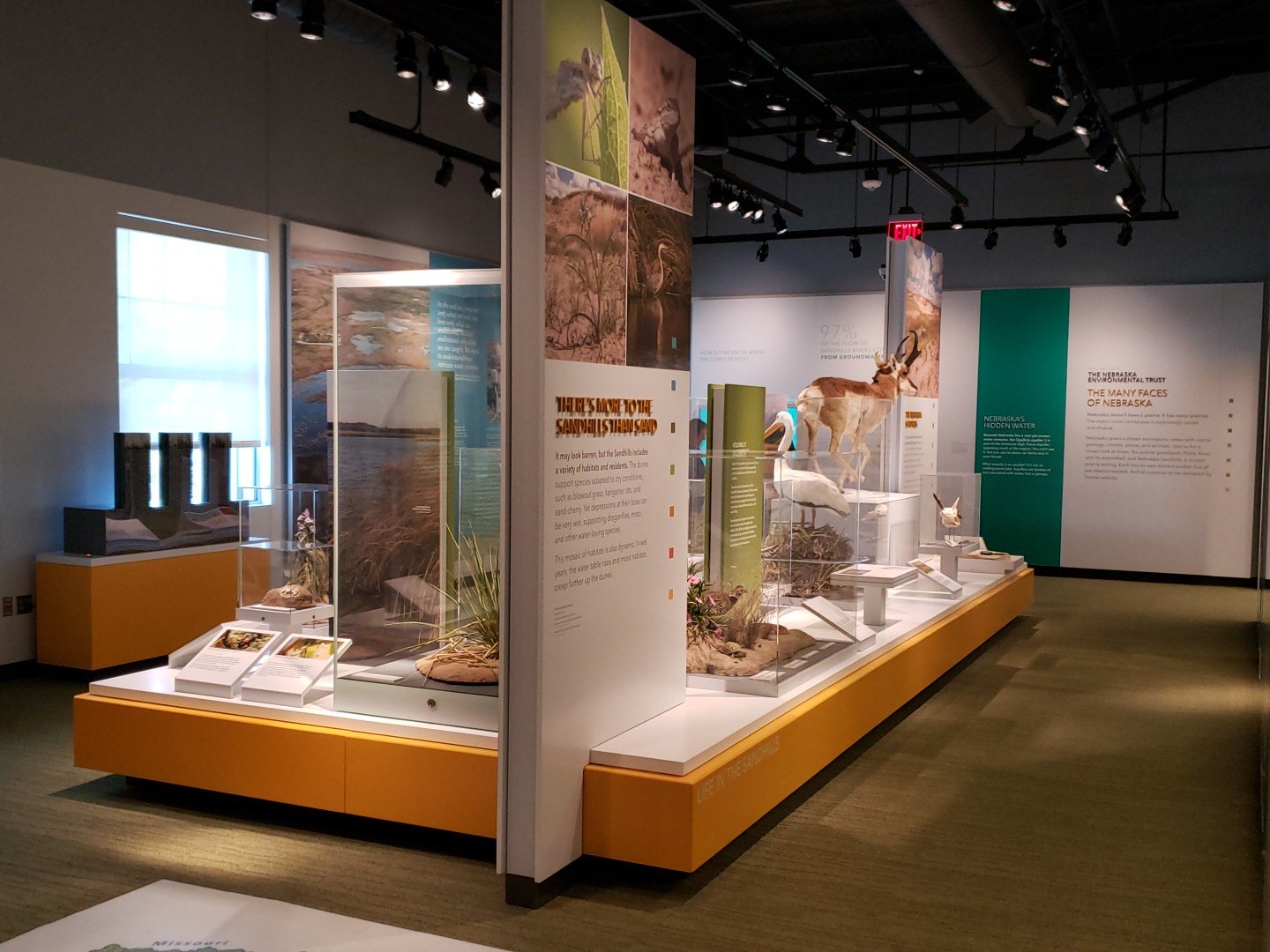 A girl approaches Barbourofelis fricki, the saber-toothed carnivore that ambushed camels and horses across the expanses of Nebraska roughly 7 million years ago. Her younger brother stands before an 8-foot-long tabletop, digitally dissecting a largemouth bass to identify its parasites.

Elsewhere, their mother learns about climate change from the short film projected on a 5-foot-wide globe as their father surveys a photographic mural, getting a dung beetle's perspective on the Cornhusker State.

Cherish Nebraska, the exhibits say.

It's a theme made real throughout the new fourth-floor expansion to the University of Nebraska State Museum at Morrill Hall, which opened to the public Feb. 16. The 11,000-square-foot project represents the latest effort to establish the NU State Museum as the "Smithsonian of the Plains."

"This floor celebrates Nebraska – our natural history and connections to our diverse cultural heritage," said Susan Weller, director of the museum and professor of entomology at the University of Nebraska-Lincoln. "I think it'll be transformational for many people. Someone on our team said to me, 'I'm from Nebraska, and I've never been more proud of Nebraska.' And it just took my breath away that we helped open her eyes to something she had never realized about the state."

Much of the privately funded, $11.4 million expansion explores Nebraska's ecosystems across multiple time scales, from mere millennia to hundreds of millions of years ago. Several areas illustrate how warming and cooling have transformed the state's cover from shallow seas to tropical jungles to massive glaciers to its now-familiar prairies. Many highlight the array of animals, plants and bacteria that once flourished – then migrated or perished – amid that changing climate.

"I think people will be surprised to find out that Nebraska is really a crossroads," Weller said. "We are where East meets West and North and South collide. Because of that, we have some really fascinating diversity."

Other exhibits explain how scientists collected the vast information that graces the fourth floor. An ice core extracted from Antarctica serves as a lesson in using trapped gas bubbles to determine the composition of ancient atmospheres.

A windowed lab space will let visitors watch as researchers examine fossils of the animals and plants that once called Nebraska home. And an exhibit on Paleo-Indians — Nebraska's original inhabitants — explains how sewing needles found at burial sites confirmed the tiny tool's outsized importance to surviving an ice age.

The expansion's theme also speaks to sustaining Nebraska's air, water and soil, Weller said. By tracing the journey of water — down the Rockies to the Sandhills, through the Platte River to the Missouri, from atmospheric heights to the Ogallala Aquifer — visitors can better appreciate humanity's influence on water quality. They can also learn about the size and impacts of their carbon footprints, Weller said, along with manageable steps toward softening them.

"We are using Nebraska as a lens on the world," she said. "Although we use local examples, they address global patterns and global questions."

A learning theater
Interactivity ranks as a hallmark of the new space, Weller said. A video game has players wielding an atlatl — a spear-based Paleo-Indian weapon predating the bow — to hunt mammoths and other big game in the hope of surviving winter. The parasite-focused digital tabletop lets users choose among numerous animals, and then investigate several of their organs, before viewing their parasites under a simulated microscope. Children can walk – or adults can crawl – through a hollow cottonwood log.

"I would recommend that visitors run through the exhibits however they wish to," Weller said. "The beauty of it is (that) there are so many different layers of things you can look at.

"And if you think about it, really, museums are learning theaters. We kind of set a stage for learning, and then that enables the participant, because you're now the actor in the play."

Weller said many exhibits engage multiple senses to immerse visitors. A rattlesnake den plays the species' maraca-like warning, recorded from specimens on the university's East Campus. The entire floor features large-format photography from native sons Michael Forsberg and Michael Farrell, among others. A full-scale replica of Bison latifrons, an extinct bison species whose height and horns could span roughly 7 feet, will dwarf most visitors.

"I think the first impression will be one of awe," Weller said. "People are going to go upstairs and say, 'Whoa. Is this Morrill Hall?'"

'On par with opening a new museum'
Weller, who became head of the NU State Museum in 2015, said the scale of the expansion easily surpasses any she's overseen.

"Usually, a museum director really feels fortunate if she or he has the opportunity to redo one major gallery every 10 years," she said of the expansion, whose opening helped celebrate the 150th anniversary of the university's charter signing. "There are seven (new) galleries worth of stuff up there. This is almost on par with opening a new museum, as far as square footage."

That scale required major contributions from many people and organizations, especially the Nebraska-based Theodore F. and Claire M. Hubbard Family Foundation, the Claire M. Hubbard Foundation, Ruth and Bill Scott, and the Nebraska Environmental Trust. It also had Weller's team calling on the expertise of university, state and occasionally worldwide researchers. SNR contributors included:


Matt Joeckel, who served on the original planning committee and is listed as one of the visionaries for the museum expansion. He also provided Conservation and Survey Division materials and content for display, including, but not limited to soil core samples and equipment. For his effort, he and the Cherish Nebraska team will be given the Kudos Award from the NU Board of Regents during the Oct. 25, 2019, meeting at Varner Hall.

Paul Hanson, who is featured in a film on Nebraska soil and provided content for geology displays.

Aaron Young, who is featured in a film about Nebraska's groundwater and provided content for geology displays.

Matt Marxsen and John Seaman, who are featured in a video using a drill rig.

Martha Shulski and Tyler Williams, who provided feedback on the climate change exhibit.

Mary Bomberger Brown, who is featured in a film about the state's terns and plovers and conservation efforts to support them.

Allison Zach, who provide an invasive species specimen on display.

John Benson, Dennis Ferraro, T.J. Fontaine, Katie Pekarek, Dave Wedin and the Conservation and Survey Division, who collaborated on projects or provided specimens for display.


"You really need the support of the community, and the philanthropy that goes with that, to make it possible," Weller said. "It really is of the community, for the community, by the community.

"We see this as a magnificent rebirth of the museum, and it will hopefully set the stage for the next 50-plus years."

To learn more about the exhibit, or to get tickets to the museum, click here.

— Adapted from University Communications