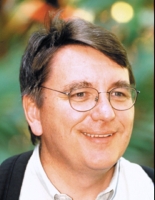 Ethnobotanist Paul Alan Cox promotes preserving natural resources by preserving traditional ways of life and believes new cures might be found by studying patterns of wellness and disease among indigenous peoples. On Nov. 2 and 3, Cox, executive director of the Institute for Ethnomedicine in Jackson Hole, Wyo., will give presentations at the School of Natural Resources.

Cox will speak on "Indigenous People and Island Conservation" on Nov. 2, at 7 p.m., a talk geared for a general audience. On Nov. 3 at 3:30 p.m., he will present "Linking Environmental Health to Human Health: Cyanobacterial Blooms and ALS (Lou Gehrig's Disease)," which will be a more technical presentation. Both events will be in the Hardin Hall auditorium at 33rd and Holdredge streets and are free and open to the public.

Cox spent three decades searching the rain forests of the Pacific islands and Southeast Asia for new medicines. His discovery of the anti-AIDS drug candidate prostratin led TIME magazine to name Cox a "Hero of Medicine" in 1997. Cox founded the Berkeley-based non-profit Seacology in 1987, which has built schools, medical clinics, and water supplies in 90 island villages in 41 countries around the world, protecting in the process over 160,000 acres of forests and 1.8 million acres of coral reef.

He found that from Micronesia to Cape Verde and Iceland, indigenous islanders are rarely consulted in the creation of nature preserves despite generations of accumulated wisdom on local ecosystems. Cox will talk about conservation techniques in which villagers own, control and operate natural preserves in return for assistance in building schools, medical clinics, and water supplies.

His current research is focused on finding and fighting the causes of neurodegenerative illnesses including Alzheimer's and Parkinson's disease.

Refreshments and free parking will be available for the Nov. 2 event.