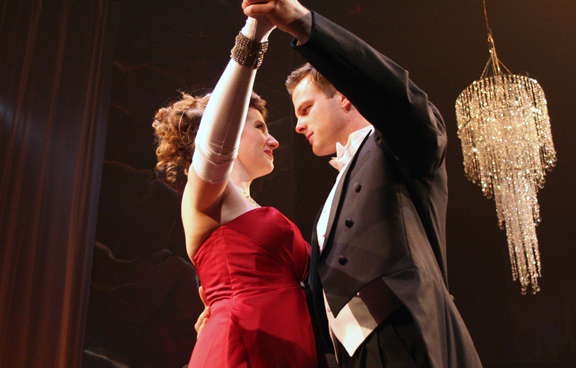 The UNL opera program will stage an updated version of Claudio Monteverdi's "The Coronation of Poppea," at 7:30 p.m., Feb. 24 and 3 p.m., Feb. 26 in Kimball Recital Hall. The production will be performed in the original Italian with English supertitles.

Inspired by Francis Ford Coppola's "The Godfather" and the artwork of contemporary painter Jack Vettriano, the opera is set in a post-war film noir style.

Staged in the fictional Hotel Roma, the production explores a dangerous and corrupt empire under the control of the feared and impetuous Nero. His nemesis, Otho, has recently returned to the hotel, expecting a reunion with his beloved Poppea. However, Otho finds Poppea is in bed with Nero himself.

Craving power, the ambitious Poppea is ready to use the entire arsenal of her female resources to persuade Nero to crown her empress. But Nero's wife Octavia won't go down without a fight and plots to have Poppea assassinated.
The Hotel Roma setting provides an ideal backdrop for the lust, brutality, corruption and steamy sensuality of Monteverdi's "The Coronation of Poppea."

Monteverdi composed "Poppea" in 1642 when he was 76 years old. Although his story is set in ancient Rome, Monteverdi aimed the tale at the decadence, political abuse and social disintegration of his own Venetian society. It's also a story that is relevant to current issues.

Tickets are $20 for adults and $10 for senior citizens and students. Tickets are available through the Lied Center box office or by calling 402-472-4747 or 800-432-3231.