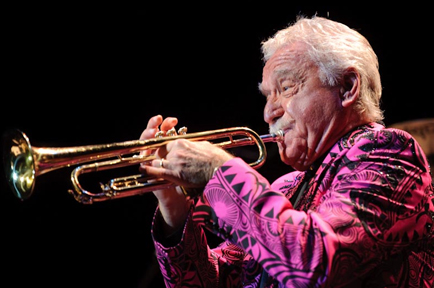 "Heeeeere's Johnny!" That lead-in, followed by a big band trumpet blast, was a hallmark of late-night television for three decades. The "Johnny" was Johnny Carson, the announcer was Ed McMahon and the bandleader was Doc Severinsen. Now, at 7:30 p.m. on Feb. 27, Severinson will bring his iconic big band sound back to the Lied Center for Performing Arts.

Severinsen's band has always been composed of "The Tonight Show's" best musicians — including Ed Shaughnessy on drums, Ernie Watts on tenor sax and Snooky Young on trumpet. Their repertoire includes Ellington and Basie standards, pop, jazz, ballads, big band classics and, of course, "The Tonight Show" theme.

The veteran trumpeter and bandleader has made more than 30 albums, ranging from big-band to jazz fusion to classical. He received a Grammy Award in 1987 for "Best Jazz instrumental Performance-Big Band" for his recording of "Doc Severinsen and The Tonight Show Band-Volume I." His latest release, "Doc Severinsen and His Big Band/Swingin' the Blues," is a collaboration with Shaughnessy and Watts.

Tickets are $39, $35 and $29 and may be purchased online at http://www.liedcenter.org, by calling 402-472-4747 or at the Lied Center, 301 N. 12th St.

Dean Haist, a trumpet player and executive director of Arts Inc., will give a pre-talk in the Lied's Steinhart Room at 7 p.m.