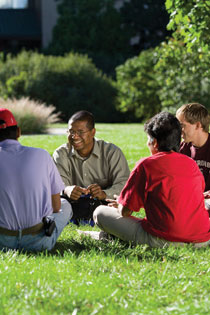 Nominations for the university's annual Outstanding Student Leadership Award are being accepted through Nov. 29. Nominations can be submitted electronically at the website below and are due in the Office of the Vice Chancellor for Student Affairs by 5 p.m., Nov. 29.

The award is given annually to one male and one female student who meet stated criteria and have made notable contributions toward the development of leadership qualities in their fellow students. The award recognizes outstanding student leadership in academic, co-curricular and/or extracurricular activities and involvements. The recipients will be eligible for a tuition scholarship with an approximate value of the cost of in-state tuition for one semester, equivalent to 15 credit hours, during the student's senior year at UNL.

To be eligible, a student must have successfully completed no less than five and more than six academic semesters (fall/spring) of full-time post-secondary enrollment, with the last three semesters completed at UNL; have at least 67 credit hours completed by the end of the fall semester 2010 with a cumulative grade point average of at least 2.5; and have current full-time (minimum of 12 hours) undergraduate enrollment status at UNL.

For more information or for a nomination form, contact Tonda Humphress at thumphress1@unl.edu or 472-3755.
More details at: http://go.unl.edu/vk2