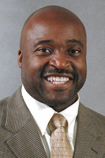 Gregory Washington is on campus Nov. 22-24 and will give a public presentation 3:30 to 5 p.m. Nov. 23 at Sheldon Museum of Art.

Washington is the interim dean for the College of Engineering at Ohio State University. He previously served as associate dean for research for the college of engineering and the interim director of the OSU Institute of Energy and Environment. He earned his bachelor's, master's and doctorate, all in mechanical engineering, at North Carolina State University. His core area of interest is in the area of dynamic systems, modeling and control of smart material systems.

Other finalists and their reception events are: Dennis Savaiano, 2:30 to 4 p.m. Nov. 29, (Lied Center for Performing Arts); David Rosowsky, 3:30 to 5 p.m. Dec. 2, (Sheldon); Suzanne Ortega, 3:30 to 5 p.m. Dec. 6 (Sheldon).

Information about the candidates is available online at http://svcaasearch.unl.edu.
More details at: http://go.unl.edu/a89