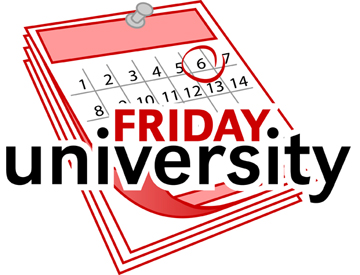 The College of Journalism and Mass Communications is holding the final Friday University session on May 18. The topic is "Business Writing I and II." Brush up on grammar skills and writing effective emails with Mary Schieke, 9 a.m. to 4 p.m., in 109 Architecture Hall.

Registration for a half-day session is $75. Registration for both morning and afternoon sessions is $125. The deadline to register is noon May 16. For more information go to http://go.unl.edu/hdz.

The morning session on grammar will help writers choose strong words and write in active voice, write strong and grammatically correct sentences, and implement a variety of techniques to write in a clear and concise manner.

The afternoon session will help you refine your writing skills for the workplace to create effective and motivating messages that get the job done.

Learn how to use email professionally and succinctly to communicate at work by using informative subject lines, writing complete sentences, and observing email etiquette guidelines; and implement a writing process where analyzing the audience, selecting an appropriate pattern, and revising and proofreading produce a clear and concise business message.

Schieke has taught business and technical communication at the undergraduate level for 10 years. Prior to that, she spent more than 15 years in the credit card/financial industry as a training supervisor, instructing supervisors and managers in supervisory, communication, and career development skills. She is certified in Franklin Covey's "What Matters Most" and "Writing Advantage." Schieke holds an MBA from Colorado Technical University.