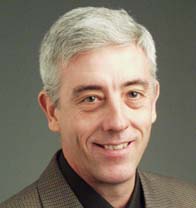 Rodney Hill, a candidate for associate vice chancellor for research, will make a public presentation at 3 p.m. Aug. 2 in the Jackie Gaughan Multicultural Center, room 202/Ubuntu Room. The presentation is open to faculty, staff and students.

Hill is an associate professor of physiology in the Department of Animal and Veterinary Science at the University of Idaho. In 2010-11, he was selected to participate in the American Council on Education fellowship program. Earlier in his career, he was research scientist and project leader with Agency for Food and Fibre Sciences in Queensland, Australia.

Hill earned a bachelor's degree in biology from Central Queensland University, a master's from the University of Queensland, based on research on quantitative distribution of Brucella suis antibody among bovine immunoglobulin classes; and a doctorate from Central Queensland University, based on research to develop a B2-adrenoceptor vaccine. Hill's CV is available for download at http://go.unl.edu/5yv.

Hill is the second of six finalists vying for two associate vice chancellor for research positions. These associate vice chancellors will play major leadership roles in helping UNL achieve research and economic development growth goals. One position will have campuswide general responsibilities for research development, growth and compliance. The other will focus on physical sciences and other research related to Department of Defense fundable projects.

Other candidates will be announced as plans for their visits are finalized.