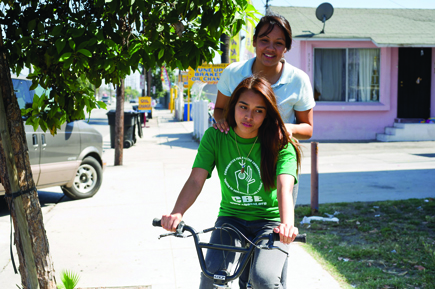 The films "Mosquita y Mari" and "5 Broken Cameras" open today at the Mary Riepma Ross Media Arts Center. Also continuing for a final week is Sundance Grand Jury Prize winner "Beasts of the Southern Wild."

Set in a predominantly Mexican, immigrant neighborhood in Los Angeles, "Mosquita y Mari" tells the story of two 15-year-old girls growing up in Huntington Park. When Yolanda Olveros (Mosquita) meets her new neighbor, Mari Rodriquez, all they see in each other are differences.

As a sheltered, only-child to her older, immigrant parents, Yolanda's sole concern is securing her college-bound future. Street-wise Mari hustles to help her undocumented family stay above water. But despite contrasting approaches to survival, the girls are soon brought together when Mari is threatened with expulsion after saving Yolanda from an incident at school.

Determined to call it even, Yolanda convinces Mari to let her tutor her after school to prove to the administrators that she's more than a delinquent. Through it all, a friendship is forged.

The film "5 Broken Cameras" is a first-hand account of non-violent resistance in Bil'in, a West Bank village threatened by encroaching Israeli settlements.

Shot almost entirely by Palestinian farmer Emad Burnat, who bought his first camera in 2005 to record the birth of his youngest son, the footage was later given to Israeli co-director Guy Davidi to edit. Structured around the violent destruction of each one of Burnat's cameras, the filmmakers' collaboration follows one family's evolution over five years of village turmoil. Burnat watches from behind the lens as olive trees are bulldozed, protests intensify, and lives are lost.

Directed by Benh Zeitlin, "Beasts of the Southern Wild" earned the Grand Jury Prize and Excellence in Cinematography Award at the 2012 Sundance Film Festival.

The film tells the story of Hushpuppy, an intrepid 6-year-old girl who lives with her father, Wink, in a southern Delta community at the edge of the world. Wink's tough love prepares Hushpuppy for a time when he's no longer there to protect her.

That time comes too soon when Wink contracts a mysterious illness and nature goes crazy, with temperatures rising, ice caps melting and the release of an army of prehistoric creatures called aurochs. With the waters rising, the aurochs coming, and Wink's health fading, Hushpuppy goes in search of her lost mother.

For more information, go to http://www.theross.org or call 402-472-5353.