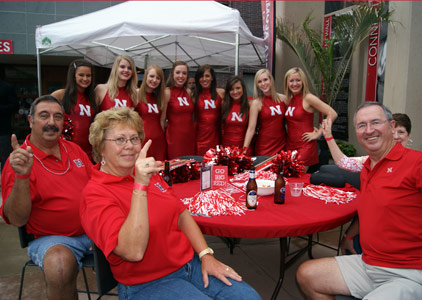 The Nebraska Champions Club, 707 Stadium Drive, is the new home of Football Fridays, a series of events hosted by the Nebraska Alumni Association on Husker home football weekends.

The new location offers more and better parking. Football Friday guests can park for free in the club lot as space is available. Both the Nebraska Champions Club and the Wick Alumni Center, the previous home of Football Fridays, are owned and operated by the association.

The fourth season of Football Fridays kicks off today. A roundtable of Husker experts, including Husker legend Tommie Frazier, Matt Davison and local media members will preview Nebraska's season opener and answer fans' questions about the team. The Husker Sports Network's Greg Sharpe will serve as emcee.

Doors open at 4:30 p.m., and the program begins at 5:15 p.m. Football Friday is free and open to the public. Food and drinks will be available for purchase. Fans in attendance have the opportunity to win football tickets, Champions Club passes and Husker memorabilia.

Football Friday events are also planned for Sept. 14, 21 and 28, Oct. 26, and Nov. 9 and 16. Featured guests will be announced weekly online at HuskerAlum.org/Football-Fridays.

The alumni association introduced Football Fridays in 2009. Last year, the six dates drew Husker fans from at least 36 states and six countries.
More details at: http://HuskerAlum.org/Football-Fridays