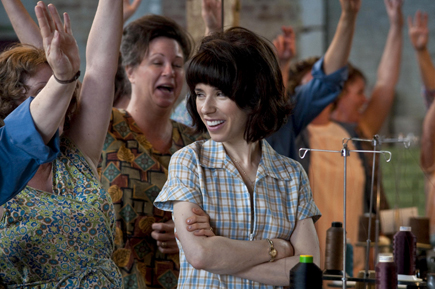 A docudrama on a 1960s push for women's rights in Great Britain and a film exploring romantic struggles after college open Jan. 14 at the Mary Riepma Ross Media Arts Center.

"Made in Dagenham" is based on a true story about a group of women who joined forces to fight for better working conditions and an end to sexism. The events took place in 1968 in the Dagenham, England, Ford Motor Company factory.

The women strike after becoming outraged by a lack of respect shown to women employees during a company meeting. The group takes on their bosses, the local community and finally the government to change a system that no one wanted to admit was broken.

The group's determination led to a cascade of women's rights improvements in successive years.

"Made in Dagenham" is rated R (language and brief sexuality) and shows through Jan. 27.

Also opening Jan. 14 is "Tiny Furniture," winner of the best narrative feature at the South by Southwest Film Festival. The film is written and directed by Lena Dunham, who also plays the lead role.

Aura (Dunham) is a 22-year-old who returns home after earning a film theory degree. She ventures to her hometown with her tail between her legs, cowed by a dismal 357 hits on her YouTube page, a boyfriend who left her to go to Burning Man, and a dying hamster. Luckily, her childhood best friend never left home, the restaurant down the block is hiring, and ill-advised romantic possibilities lurk around ever corner. Thus begins Aura's search to figure out who she is.

"Tiny Furniture" is not rated and shows through Jan. 20.

For more information, including show times, go to http://www.theross.org or call (402) 472-5353.
More details at: http://www.theross.org