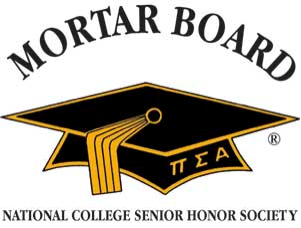 Student applications for Mortar Board, the only national senior honor society at UNL, are due by Jan. 21. Mortar Board recognizes college seniors for distinguished ability and achievement in scholarship, leadership and service.

The honor society also recognizes freshmen, sophomores and seniors as Mortar Board Notables. Applications for selection as a "Notable" are due by Feb. 11.

Applications are available at http://www.unlmortarboard.com.

Members of UNL's Black Masque Chapter of Mortar Board began serving the university in 1905.

Mortar Board chapters across the nation are challenged to provide thoughtful leadership to the campus and community, to create an environment of effective communication, to move toward a meaningful goal, and to maintain the ideals of the society. It is an honor to be selected for Mortar Board and all eligible students are encouraged to apply.

More details at: http://go.unl.edu/xyv