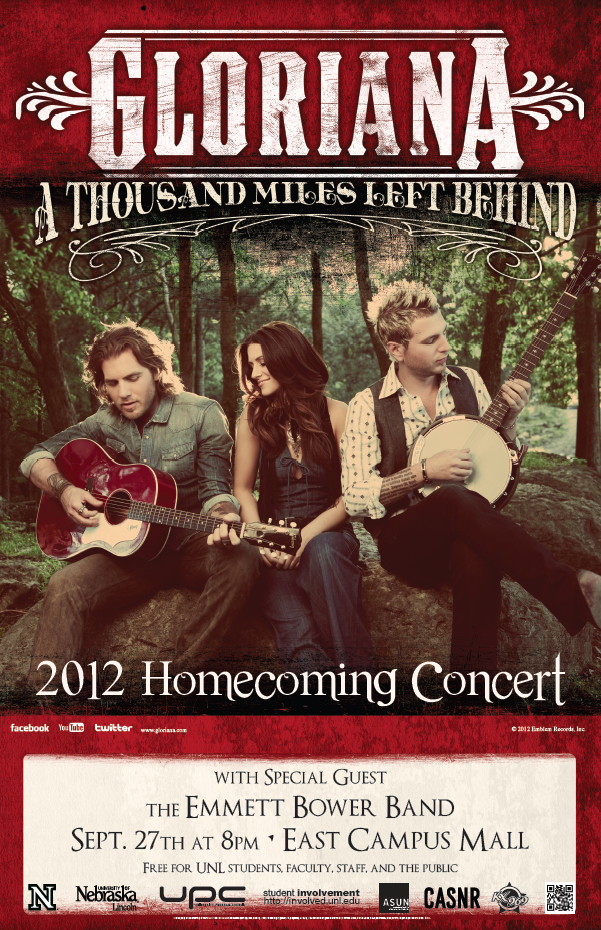 Gloriana, with special guest Emmett Bower Band, will be featured at UNL's Homecoming concert, 8 p.m. today on the East Campus Mall. Admission is free.

Coming off an American Music Award for Breakthrough Artist and an Academy of Country Music Award for Top New Vocal Group in 2010, Gloriana released its second studio album, "A Thousand Miles Left Behind," on July 31. The album's hit single "(Kissed You) Good Night" took country music by storm, reaching No. 2 on the Billboard Hot Country charts. With a sound all their own, brothers Mike and Tom Gossin and Rachel Reinert are sure to leave country fans and newcomers begging for more.

Since 2010, Emmett Bower Band has been entertaining crowds both big and small all over the Midwest. Based in Lincoln and boasting a slew of multi-instrumentalist members, this alternative country act is a "deep cut" above the rest.

The concert is presented by the University Program Council, KX 96.9, the Association of Students of the University of Nebraska, the College of Agricultural Sciences and Natural Resources, Student Involvement, Campus Recreation and the Office of the Vice Chancellor for Student Affairs.