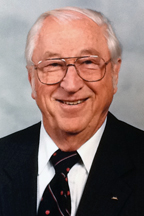 William "Bill" Eldon Splinter, 86, George Holmes professor emeritus of biological systems engineering, died Sept. 26 in Lincoln. He served UNL as a professor, department head, dean, vice chancellor and museum director.

Splinter was born Nov. 24, 1925 in North Platte. He earned a bachelor's degree from the University of Nebraska in 1943. He received a master of science and doctorate from Michigan State University in 1951 and 1955, respectively.

Splinter was a veteran, serving in the U.S. Navy, including a post as a radar operator.

He taught at Michigan State and North Carolina State before returning to Lincoln in 1968 to head agricultural engineering (now biological systems engineering). Splinter was named interim vice chancellor for research in 1990. He was vice chancellor for research from 1992 until retiring in 1993.

Splinter returned as interim dean of engineering (1994-1995), a post he again held from 2001-2002. In September 2002, Splinter was interim director at the University of Nebraska State Museum.

Splinter was also an active scientist and was a leader in exploring the applications of solar energy to agricultural systems. He believed it was imperative that alternative energy sources be developed to offset limited supplies of fossil fuels.

He was elected to the National Academy of Engineering. He served as national president of the American Society of Agricultural Engineers, and was a member of the American Association for the Advancement of Science.

Splinter played a vital role in developing the Lester F. Larsen Tractor Test and Power Museum. He retired as director of the tractor museum in 2011.

Splinter and his late wife, Eleanor, established both a student scholarship fund and an endowed professorship at UNL. The Dr. William E. and Eleanor L. Splinter Scholarship fund was created in 1980. The Dr. William E. and Eleanor L. Splinter Distinguished Professorship was established in 1999.

UNL's Splinter Lab is named in Splinter's honor.

A memorial service is 11 a.m. Oct. 1 at First Lutheran Church, 1551 S. 70th St. Visitation is 2 to 8 p.m. Sept. 30 at Roper and Sons Mortuary, 4300 O St. Memorials in lieu of flowers to Grace Lutheran Church in Walton, Neb.; University of Nebraska Foundation; or Larsen Tractor Museum.

Condolences or personal reflections may be sent online at http://www.roperandsons.com.