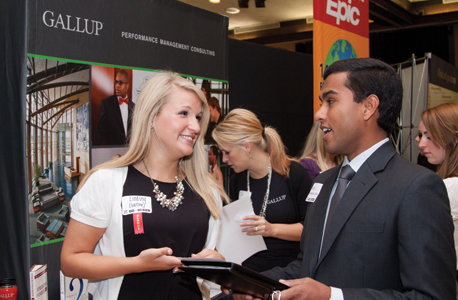 More than 300 employer booths will be featured at the UNL Career Fair, Oct. 2-4. A complete list of participating employers is available at http://go.unl.edu/94n.

The Career Fair is organized by Career Services. Each day of the fair will focus on a particular area of employment:

10:30 a.m. to 3 p.m. Oct. 2, Nebraska Union — Engineering and Technology

10 a.m. to 3 p.m. Oct. 3, Nebraska Union — Business, Service, Government, Liberal Arts, and Science

10 a.m. to 3 p.m. Oct. 4, East Union — Agricultural Sciences and Natural Resources

Students, alumni, faculty and staff are invited to participate. Students and alumni should dress professionally and bring copies of resumes. Faculty and staff are encouraged to attend and become familiar with opportunities offered by employers.

Career Services welcomes employer referrals from faculty and staff. Career Services also provides employer contacts that may lead to candidates for advisory board, co-op and internship opportunities for students, and fundraising prospects.

For more information, contact Kelly Smith at smith@unl.edu or 402-472-8217.
More details at: http://go.unl.edu/94n