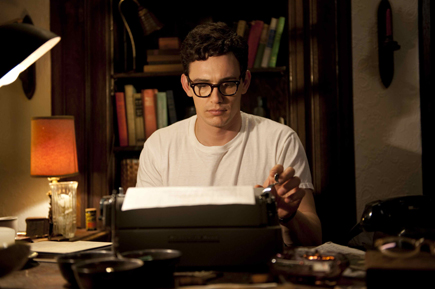 "Howl," a feature film about how Allen Ginsberg's work broke down societal barriers in the face of an infamous public obscenity trial, opens Jan. 28 at the Ross Media Arts Center.

The film stars James Franco as Ginsberg, a poet, counter-culture icon and chronicler of the Beat Generation. The story recounts the road trips, love affairs and search for personal liberation that led Ginsberg to write his infamous poem, "Howl."

Ginsberg wrote the poem "Howl" in mid-1955. Many factors went into the creation of the poem. A short time before the composition of "Howl," Ginsberg's therapist encouraged him to quit his job and pursue poetry full time. He experimented with short simple sentences in the poem "Dream Record: June 8, 1955," a technique that would become central in the "Howl" composition. "Howl" is noted for relating stories and experiences of Ginsberg's friends and contemporaries, its hallucinatory style, and the frank address of sexuality - specifically homosexuality, which sparked an obscenity trial.

The film interweaves three stories - the unfolding 1957 obscenity trial; an imaginative animated ride through the poem itself; and a unique portrait of a man who found new ways to express himself, changing his own life and galvanizing a generation.

"Howl" (not rated) plays through Feb. 3 at the Ross.

A movie talk about "Howl" is at 2:30 p.m., Jan. 30. The talk follows the 1 p.m. screening. The discussion will be led by Grace Bauer, professor of English; Franz Blaha, emeritus professor of English; Michael Skau, professor of English at the University of Nebraska at Omaha; and L. Kent Wolgamott, entertainment reporter for the Lincoln Journal Star.

The talk is free and open to the public. Admission to the 1 p.m. screening is at regular Ross prices.

Also showing (through Feb. 3) is "Tamara Drewe," a film based on Posy Simmonds' graphic novel of the same name. The film tells the story of Tamara Drewe's return to her hometown and the uproar the return causes.

For more information, go to http://www.theross.org or call 472-5353.
More details at: http://www.theross.org