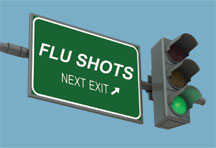 University Health Center is offering walk-in flu shot clinics at four UNL locations as part of National Influenza Vaccination Week (Dec. 2-8). The clinics, 11:30 a.m. to 1 p.m., are: Dec. 3 at the Harper-Schramm-Smith Dining Hall; Dec. 4 at the Abel-Sandoz Dining Hall; Dec. 5 at the East Union; and Dec. 6, Nebraska Union.

Flu shots are free for UNL students paying University Program and Facilities Fees. The shots are $30 for faculty and staff.

As part of UNL's wellness benefits, the University Health Center will file Blue Cross Blue Shield claims for faculty and staff. Insurance cards must be presented at the time of the vaccination to allow a claim to be filed. The University Health Center will issue a bill to individuals who have used all wellness benefits for 2012.

For more information, go to http://go.unl.edu/ioo.