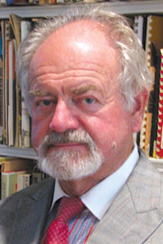 Ronald Lee Fleming, fellow of the American Institute of Certified Planners, will speak on the "Scenic Manifesto for Communities" as part of the Agricultural Research Division's new Big Idea Seminars.

The Nov. 30 seminar will be at the Mary Riepma Ross Media Arts Center, 313 N. 13th St., at 4:30 p.m. This lecture is in collaboration with the College of Architecture's Hyde Lecture series.

Fleming's remarks will focus on the Scenic Manifesto that was developed at Scenic America, a coalition of scenic organizations, which he chairs.

Joining the Scenic Cities program can help cities identify and preserve their unique qualities in times of development pressure and change.

Fleming pioneered main street revitalization in the '70s and '80s and also wrote about place making.

The Big Idea Seminars series in the Institute of Agriculture and Natural Resources at UNL covers a broad area of research topics and is meant to bring together collaborations between faculty members across all of UNL.

McCarty is the final of five speakers in the Big Idea's first seminar series titled "Scenery as a Natural Resource," which was organized by Richard Sutton, professor in agronomy and horticulture at UNL.

This seminar series will help raise awareness of the visual landscape for the academic research community and as a resource affecting the quality of life for all Nebraskans.

Among the collaborators are the College of Architecture, School of Natural Resources and Department of Agronomy and Horticulture.

A new Big Idea Seminars series will start in January on "Plant Recognition and Identification Technology." It is organized by Steve Young, assistant professor at UNL's West Central Research and Extension Center at North Platte.

For more information, go to http://bigideaseminars.unl.edu/home.