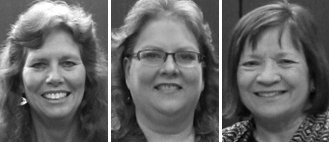 UNL's Tamera Brennan, Karen Jackson and Cheryl Wemhoff received awards during the Nov. 13 University of Nebraska Office Professionals luncheon.

Brennan, a financial assistant in the College of Business Administration dean's office, received the Floyd S. Oldt Outstanding Staff award. Jackson, a transfer credit evaluation specialist and programming assistant in the College of Agricultural Sciences and Natural Resources, and Whemhoff, a graduate admissions and program coordinator in electrical engineering, each received a Floyd S. Oldt Silver Pen Award.

The Oldt Outstanding Staff Award recognizes an outstanding University of Nebraska office/service employee who demonstrates distinguished service and contributions to the university. The recipient receives a $1,000 cash award, a plaque, and a one-year UNOPA membership.

Brennan was nominated by Ann Chalupa. The nominator and other letters of support commented that Brennan shares any new knowledge with others to keep everyone informed and up-to-date on policies and procedures. Brennan is also "always willing to assist others who have found themselves bogged down," and "is an adept team player and demonstrates these qualities consistently."

The Silver Pen Award honors two office/service employees who have demonstrated superior performance while employed at UNL and who have made significant contributions to the university. Each recipient receives a $600 cash award, an engraved pen, a framed certificate, and a one-year UNOPA membership.

Jackson was nominated by Carol Wusk. Letters of support commented that Jackson's "efficiency, effectiveness and service are characteristics that show a sustained level of exceptional assistance to faculty and students." Jackson also "has been an extremely valuable ambassador for the university in a variety of roles; each role characterized by warmth and a smile."

Wemhoff was nominated by Jane Schneider, Angela Bryan and Casey Coleman. Letters of support commented that Wemhoff "holds a very efficient work schedule and maintains excellent communication between graduate students, faculty and staff, and UNL graduate studies," and that she "fosters respect for all individuals and point of view."

For more information, go to http://unopa.unl.edu.