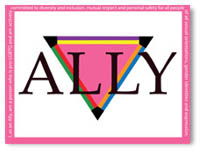 Nominations are being accepted for the Chancellor's Award for Outstanding Contributions to the Gay, Lesbian, Bisexual and Transgender Community. The awards are given annually in two categories: faculty/staff and student.

The awards formally recognize efforts to create an inclusive, respectful and safe climate for members of the gay, lesbian, bisexual and transgender community at UNL. The efforts may be by an individual, an organization or department with the university. The award recipient must demonstrate a sustained and tangible impact on the campus community.

The deadline for nominations is March 18. Nomination forms are available at http://www.unl.edu/cglbtc.

For more information, contact Lee Heerten at lheerten2@unl.edu or (402) 472-7498.

More details at: http://www.unl.edu/cglbtc