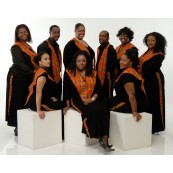 The Harlem Gospel Choir will give a live performance at 7:30 p.m., Feb. 19 at the Lied Center for Performing Arts.

The world-famous Harlem Gospel Choir is America's premier gospel choir, and has traveled the globe for 25 years sharing its joy of faith and raising funds for children's charities. The choir was founded in 1986 by Allen Bailey who got the idea for the choir while attending a celebration in honor of Dr. Martin Luther King Jr. at the Cotton Club in Harlem. Today the choir presents the finest singers and musicians from black churches in Harlem and the New York area.

Admission is free for UNL students as part of the Lied's "Arts for All" program. To receive free tickets, visit marketplace.unl.edu/liedcenter.

More details at: http://go.unl.edu/dbz