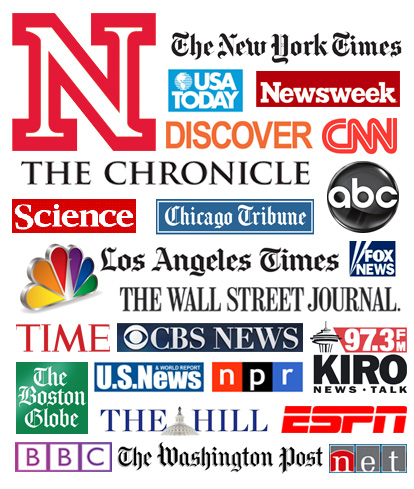 National media outlets featured and cited UNL sources on a number of topics in the past month. Appearances included:

Grace Bauer, English, was quoted Jan. 9 by TIME about the selection of Richard Blanco as President Obama's inaugural poet.
http://go.unl.edu/pf8

Charlyne Berens, associate dean of the College of Journalism and Mass Communications, was sought out regularly in early January following the nomination of former U.S. Sen. Chuck Hagel as Secretary of Defense. Berens, Hagel's biographer, wrote columns for TIME and Foreign Policy and was quoted by numerous outlets including The Christian Science Monitor, the Los Angeles Times and many others.
http://go.unl.edu/s8p
http://go.unl.edu/hzn
http://go.unl.edu/rx9
http://go.unl.edu/2qv

Beth Burkstrand-Reid, law, was quoted Jan. 22 by Scripps-Howard News Service about the legacy of Roe v. Wade on its 40th anniversary.
http://go.unl.edu/d86

Wheeler Winston Dixon, film studies, was quoted Jan. 2 in the Christian Science Monitor about Hollywood's record 2012 haul. He was quoted Jan. 11 by Reuters about the persistence of horror films despite violent national tragedies. On Jan. 10, he participated in an online chat for Postmedia News of Canada on the year's Oscar nominations.
http://go.unl.edu/6rq
http://go.unl.edu/d7p

Brian Fuchs, climatologist at the National Drought Mitigation Center, was quoted regularly in January about the state of U.S. drought, including a Jan. 10 appearance in Reuters.
http://go.unl.edu/65h

Matthew Jockers, English, was featured in a Jan. 26 story in the New York Times about his technique combining computer programming and text-mining to macroanalyze various facets of 19th century literature.
http://go.unl.edu/0bi

Lisa Kort-Butler, sociology, had her research into the content and messages of superhero cartoons featured in USA TODAY, the Today Show, Fox News, Canada.com and a number of other media outlets in early January.
http://go.unl.edu/5gq
http://go.unl.edu/0ea

James LeSueur, history, was quoted Jan. 17 by Bloomberg News on the geopolitical ramifications of a hostage crisis in Algeria.
http://go.unl.edu/rx6

Adam Liska, biological systems engineering, spoke Jan. 16 with NPR News about land use and whether Midwest land could support new biofuel refineries.
http://go.unl.edu/fd0

Richard Moberly, law, did a Q&A on Jan. 14 on the complexities of the Obama administration's whistleblower policies.
http://go.unl.edu/7as

David Moshman, educational psychology, wrote a Jan. 6 column for The Huffington Post about the 25th anniversary of the U.S. Supreme Court decision regarding schools and intellectual freedom.
http://go.unl.edu/k9r

Karl Reinhard, Earth and atmospheric sciences, had his and his students' research into intestines featured on Jan. 28 by National Geographic News.
http://go.unl.edu/08j

Philip Schwadel, sociology, had his research into support for school prayer among various U.S. religious dominations over time featured by several outlets in early January, including U.S. News and World Report, Yahoo! News and NBC News.
http://go.unl.edu/hcb
http://go.unl.edu/p6p

Susan Swearer, school psychology, was quoted by a number of outlets in mid-January as part of her counseling role with Lady Gaga's traveling Born Brave Bus Tour. Appearances included Q13 Fox News in Seattle and Rolling Stone.
http://go.unl.edu/u2d
http://go.unl.edu/twx

Matthew Waite, journalism, was quoted Jan. 13 by the New York Times in a column about guns, maps and data that disturb. On Jan. 15, the Times quoted him in a story about the New York State Legislature restricting access to gun permit data in the state.
http://go.unl.edu/78n
http://go.unl.edu/mde

Donald Wilhite, founding director of UNL's National Drought Mitigation Center, appeared on C-SPAN on Jan. 16 as part of a panel discussion on the consequences of aridity and drought.
http://go.unl.edu/gig

This is a monthly column featuring UNL faculty and staff in the national news. National media often work with University Communications to identify and connect with UNL sources for the purpose of including the university's research, expertise and programming in published or broadcasted work. Faculty, administration, student and staff appearances in the national media are logged at http://newsroom.unl.edu/inthenews/



To offer suggestions regarding potential national news stories or sources at UNL, contact Steve Smith at ssmith13@unl.edu or 402-472-4226.