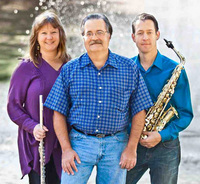 The School of Music will host The Excelsior! Trio as guest artists. The trio will perform at 7:30 p.m. Feb. 12 in Westbrook Recital Hall, room 119. The concert is free and open to the public.

Members of the trio are Deb Harris, Russ Peterson and Jay Hershberger, all professors at Concordia College in Moorhead and principal players in the Fargo-Moorhead Symphony.

The performance is part of the trio's 2013 tour, which includes stops in North Dakota, Wyoming, Colorado, Nebraska and Iowa.

The Excelsior! Trio performs an eclectic mix of classical, jazz, folk, and contemporary chamber music.