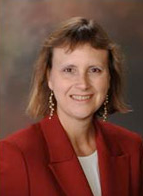 Alice E. Smith, one of five finalists to become dean of the College of Engineering, will give a public presentation at 3:30 p.m. today in Walter Scott Engineering Center, room 237. A search committee selected the five candidates.

Smith is professor and chair of the Department of Industrial and Systems Engineering at Auburn University after previously being on faculty at University of Pittsburgh. She has degrees in engineering and business from Rice University, Saint Louis University and Missouri University of Science and Technology. She also has industrial experience at Southwestern Bell Corp. Her research interests are in analysis, modeling and optimization of complex systems.

The other four candidates are James Alleman from Iowa State University, Jean-Pierre Bardet from University of Southern California, Mark Law from University of Florida, and Timothy Wei of Rensselaer Polytechnic Institute.

More details at: http://go.unl.edu/k50