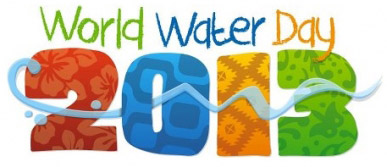 In honor of World Water Day on March 22, the University of Nebraska sent representatives to Washington, D.C., this week to lead water and food security discussions among industry experts and policy decision makers.

The March 20 events included a panel discussion at the National Press Club and briefing/panel discussion on Capitol Hill.

Roberto Lenton, executive director of the Robert B. Daugherty Water for Food Institute, introduced the panel discussion at the National Press Club. Lenton and Margaret Zeigler, executive director of the Global Harvest Initiative, set the discussion theme, "Too Hot, Too Wet, Too Dry: Building Resilient Agroecosystems." The topic is also the theme for the fifth global Water for Food Conference, May 5-8.

Ronnie Green, vice chancellor for agriculture and natural resources at UNL, led the panel. The four panelists were Manish Bapna, executive vice president and managing director, World Resources Institute; Heidi Cullen, chief climatologist, Climate Central; Claudia Garcia, senior director of global corporate affairs, Elanco; and Paul Weisenfeld, assistant to the administrator, Bureau for Food Security, United States Agency for International Development.

Green, Lenton and Ziegler led the Capitol Hill briefing. The presentation included a panel discussion on the future of American agriculture and the role water plays in a sustainable rural future. Panelists were Cathie Woteki, undersecretary for research, education and economics, USDA; Mark Svoboda, climatologist, UNL National Drought Mitigation Center; Joel Lipsitch, director of business integration and strategy, John Deere; and April Hemmes, Iowa cattle and grain farmer.

For more information on the Daugherty Water for Food Institute, go to http://waterforfood.nebraska.edu/.