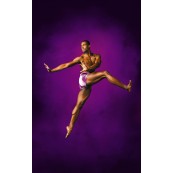 UNL will host a performance by the Alvin Ailey American Dance Theatre and a discussion on the dance troupe's namesake on March 8.

The Alvin Ailey American Dance Theatre will perform at 7:30 p.m. at the Lied Center for Performing Arts. Tickets are $45/$39 for general admission and $22.50/$19.50 for college students and youth age 18 and under. The performance is free for UNL students (with a valid NCard) as it is part of the Lied's "Arts for All" program.

For more information about the performance, go to http://www.liedcenter.org. Watch a video featuring the Alvin Ailey American Dance Theatre at http://go.unl.edu/7hp.

At 5:30 p.m., Thomas DeFrantz, author of "Dancing Revelations: Alvin Ailey's Embodiment of African American Culture," will give a free public lecture at the Van Brunt Visitors Center. The lecture is presented by the Interdisciplinary Arts Symposium.

DeFrantz is professor of music, theater arts, comparative media studies, and women's and gender studies at the Massachusetts Institute of Technology.

During his visit to UNL, DeFrantz will also lead a tap master class for UNL students and a question and answer session with middle school students.

For more information about the lecture or to reserve seats, contact Petra Wahlqvist at pwahlqvist2@unl.edu or (402) 472-5186.
More details at: http://go.unl.edu/7hp