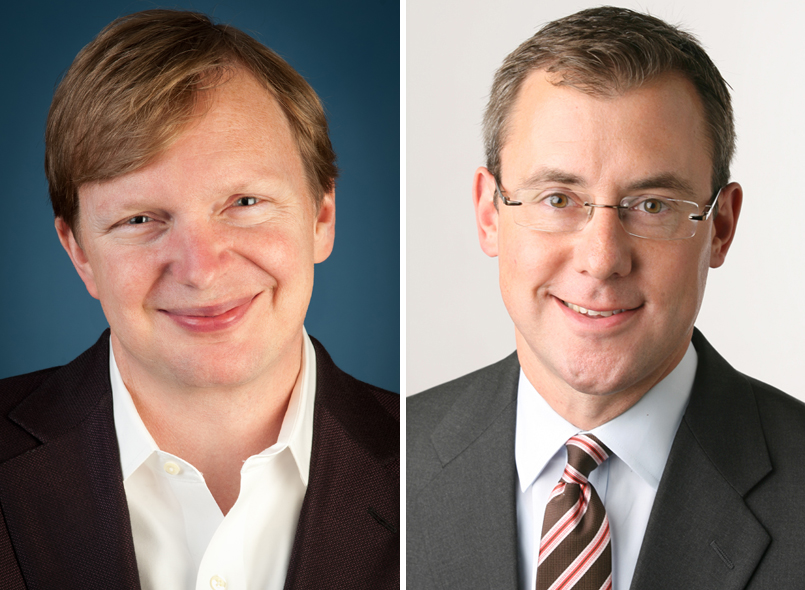 The main architect of President Obama's re-election and one of the nation's top political reporters will provide insight and retrospective on the historic 2012 presidential campaign at this year's Hoagland Lecture.

Jim Messina, former Obama campaign manager, and Jeff Zeleny, a UNL alumnus, former New York Times reporter and senior political correspondent at ABC News, will speak at 4:30 p.m. April 5 in the Peter J. Hoagland Integrity in Public Service Lecture Series. The lecture is free and open to the public and will be conducted in the auditorium of the Nebraska Union.

Messina was the mastermind behind Obama's 2012 re-election campaign, a bid that set the standard for merging technology and politics in its successful effort to secure a second White House term for the president.

Prior to that, Messina was deputy chief of staff to the president from 2009 to 2011, and was integral to the passage of the landmark health care and economic stimulus bills. He was director of personnel for the Obama-Biden Presidential Transition and as national chief of staff for Obama for America.

Messina has also served as chief of staff for U.S. Sen. Max Baucus (D-Mont.), U.S. Sen. Byron Dorgan (D-N.D.) and U.S. Rep. Carolyn McCarthy (D-N.Y.). He has overseen and consulted on political campaigns across the country, from Alaska to New York. He is a graduate of the University of Montana and attended high school in Boise, Idaho.

Zeleny joins ABC News after a successful stint as national political correspondent for the New York Times. During his tenure there, he was the newspaper's lead writer for the 2012 campaign, which was his fourth presidential race. He also covered Congress and the White House. He came to the Times from the Chicago Tribune, where he covered national politics and chronicled Obama's rise to national prominence. He began his career covering politics for the Des Moines Register. He graduated in 1996 from UNL, where he studied journalism and political science. A native of Exeter, Neb., Zeleny has lived in Washington for 12 years.

The Hoagland lecture series honors former Nebraska state senator and three-term Congressman Peter Hoagland, who died in 2007 at age 65. In the state Legislature, Hoagland was known for his work on legislation supporting environmental causes and was a champion of education and preserving the quality of Nebraska's groundwater supply. Hoagland also served as chairman of the Legislature's Judiciary Committee and worked to toughen drunk driving laws.

Hoagland's friend and former chief of staff, Jim Crounse, created the lecture series in 2008 with a gift to the University of Nebraska Foundation. The goal of the series is to inspire young people to dedicate themselves to public service. Hoagland cared deeply about public service and giving the next generation opportunities to participate in public service and to see the good that can come of it.