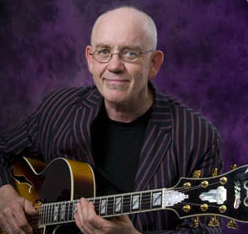 Jerry Hahn, a trailblazer in rock/jazz fusion, will close out the 19th season of Jazz in June with his June 29 performance.

The Jazz in June series offers Tuesday evening jazz performances in the great outdoors on the plaza west of the Sheldon Museum of Art. The concerts begin at 7 p.m. and draw thousands to campus.

Hahn is recognized as one of jazz's most influential guitarists. Born in Nebraska and raised in Kansas, he began playing professionally at age 11 with Bobby Wiley Rhythmaires, appearing daily on Wichita's first television station KEDD. At 21, Hahn moved to San Francisco and in 1964 he joined the John Hand Quintet. The group recorded two albums for Columbia Records, including the critically acclaimed "Live at Monterrey."

In 1967 he recorded his first album "The Jerry Hahn Quintet" for Arhoolie Records with Jack DeJohnette on drums. In 1968, he joined the Gary Burton Quartet with Roy Haynes and Steve Swallow, recorded three albums and toured internationally. Then, in 1970, he formed the Jerry Hahn Brotherhood, performing, touring, and recording for Columbia Records.

In 1972, Hahn returned to Wichita, and began a teaching career at Wichita State University, and later at the Colorado Institute of Art and Portland State University.

He is currently performing and teaching in the Kansas City and Wichita areas.

Other members of the Jerry Hahn Band are Joe Cartwright on piano, Tyrone Clarke on bass and Mike Warren on drums.

Concertgoers are reminded to bring blankets or lawn chairs. Jazz in June performances are free and open to the public, however, concertgoers are asked to make a minimum donation of $10 per family to continue the series.

A free garden tour featuring "Highlights of Sheldon's Sculpture Gardens" starts at 6 p.m. on the east side of Sheldon.

The Sheldon will also offer Super Sleuth hunts in and around the museum for kids. And the Jazz in June Market offers food and shopping to concertgoers. The market opens at 5 p.m. on 12th and R streets.

For more information, go to http://www.jazzinjune.com.
More details at: www.jazzinjune.com