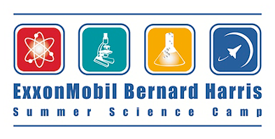 For the second-straight year, Nebraska EPSCoR and UNL host a two-week residential summer camp sponsored by ExxonMobil and the Harris Foundation.

Fifty-two local middle school students are abandoning their typical summer activities to dive into this fun-filled math and science camp. This adventure, the ExxonMobil Bernard Harris Summer Science Camp, is transforming summer vacations by giving students the opportunity to get ahead in math and science, meet inspiring role models and experience college life.

The 2010 theme is "Extraordinary H2O." As a part of the program, campers will participate in "Escape from Harris Island," building rafts from limited supplies and facing off in a competition to test newly-acquired engineering skills. In addition to this hands-on activity on June 29, they will also participate in interactive demonstrations, learn about engineering and other science careers with ExxonMobil engineers and scientists, and hear via Skype from camp founder Bernard Harris, the first African American to walk in space.

Studies show that the United States is facing a critical shortage of engineers, scientists and other technically trained workers. To help address this crisis, former astronaut Harris and ExxonMobil are providing 30 free, two-week summer camps across the country that offer innovative math and science programs to encourage middle school students to stay in school, develop their knowledge and foster their interest in engineering.

On June 29, campers will participate in ExxonMobil Media Day at the Beadle Center. The group will also go on a field trip to Holmes Lake on June 30 to conduct toxic algae tests with Tadd Barrow, UNL Extension Educator.

For more information on the camp, go to http://go.unl.edu/bhssc.