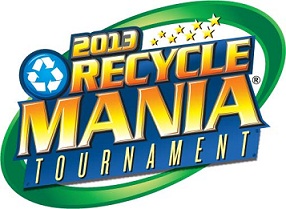 UNL finished in 61st place overall for total materials recycled during the national RecycleMania competition.

During the eight-week event, UNL recycled 294,207 pounds of paper, cardboard, plastic and aluminum. The total is 9 percent higher than UNL's tally from the 2012 RecycleMania contest. The UNL total also represents a 514 metric ton reduction in carbon dioxide emissions, said Prabhakar Shrestha, UNL's recycling coordinator.

The total is equivalent to removing 101 cars from the road or the energy consumed by 45 households.

Compared to Big Ten peers, UNL ranked third in the "Grand Champion" category with a recycling rate of 34.1 percent, and was fifth in "Per Capita Classic," recycling an average of 10.7 pounds per person.

Another goal of the competition was to increase awareness about recycling on campus. Shrestha said a variety of campus groups helped with the competition, devising recycling challenges and projects in coordination with the UNL Recycling Office. Notable groups and their projects include:

— Sustain UNL hosted weekly boots in the Nebraska Union distributing information about recycling on campus;

— Beta Alpha Psi sponsored a "file fling" collection drive in the College of Business Administration; and

— UNL Children's Center provided recycling containers to families in hopes of getting children involved in the recycling habit.

"UNL's continued participation and improvement in events like RecycleMania is a testament to the university's commitment to sustainability and recognition of its responsibility to the environment," Shrestha said. "It is the participation of each member of the university community that makes recycling at UNL successful."

RecycleMania is a friendly competition between universities and colleges across the United States and Canada to see which institution can reduce, reuse and recycle the most on-campus waste. The goal is to not only to increase recycling efforts, but also to raise awareness and increase education related to creating a more sustainable environment on campus.

Campus sponsors of RecycleMania include the College of Agricultural Sciences and Natural Resources, College of Business Administration and the College of Arts and Sciences.

For more information, go to http://recycling.unl.edu or contact Shrestha at 402-472-9139.