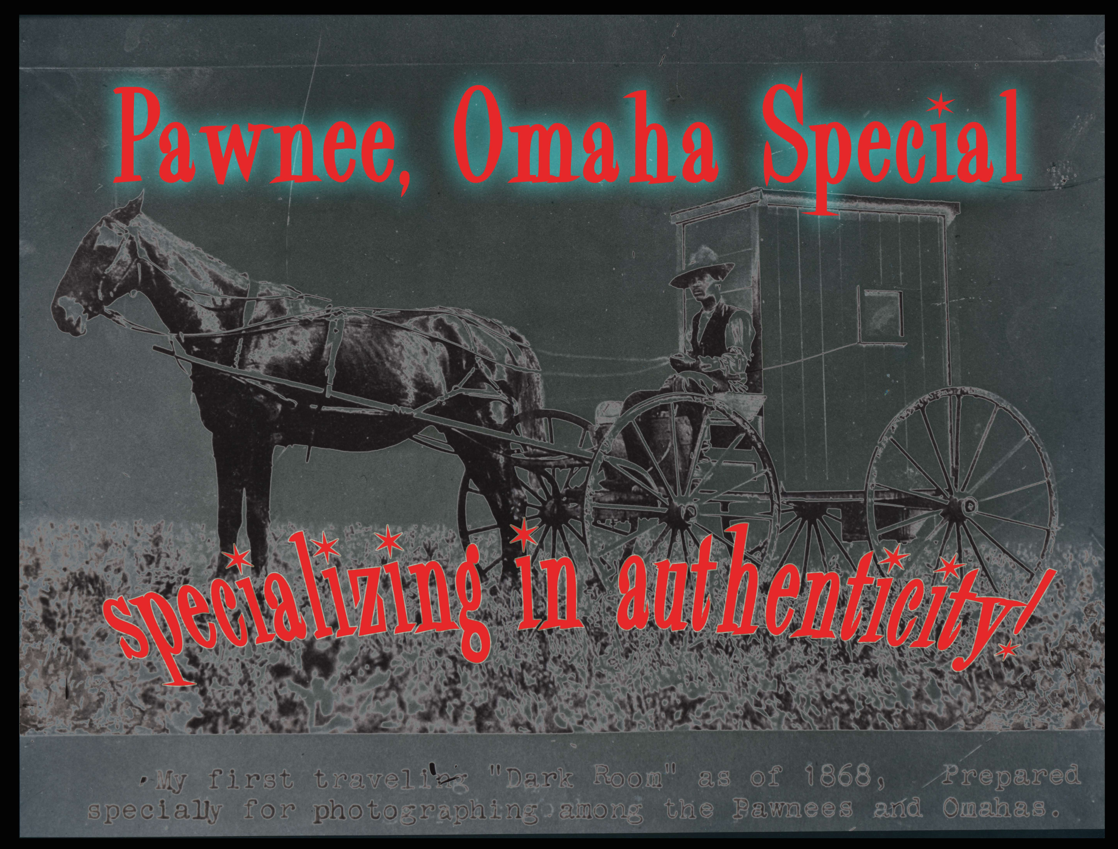 The Great Plains Art Museum exhibition, "Double Vision: New Works by Hulleah J. Tsinhnahjinnie," has been extended by popular demand through April 17. Guest-curated by 2011 Geske Lectureship presenter Veronica L. Passalacqua, the exhibition features photographic items from the Great Plains Art Museum's permanent collection to create new works of digital collage by Hulleah J. Tsinhnahjinnie.

Tsinhnahjinnie was born into the Bear and Raccoon clans of the Seminole and Muscogee nations, and born for the Tsinajinnie clan of the Dine nation. Exhibited nationally and internationally, photography is one of her primary modes of creative expressions. Tsinhnahjinnie's work in this series draws on the artist's native authority, incorporating vintage photographs of indigenous people. By reclaiming these images through her own expressions, she is creating a new document grounded in a native perspective.

In an artist statement, Tsinhnahjinnie wrote, "This series intentionally focuses upon the Buffalo Nation/Bison Nation, of the historical. As I surveyed the images I had selected to work with, the presence of the Buffalo Nation/Bison Nation felt very strong and as I worked on the images, I wanted to pay homage to a nation that was nearly slaughtered to extinction. I wanted to pay homage to a four-legged nation that survived in spite of 'progress.' While thinking about the Buffalo Nation/Bison Nation, I couldn't help but consider the dualities that just their name presents; how, the early settlers could not understand the indigenous names of 'things' already present so they had to rename 'things' to make them familiar, from animals, birds, cities, streets, even giving the Indigenous Nations the name of 'Indian.'

"The works in this exhibition address, double vision in the form of a political and personal response to the images selected from the museum's photographic archives. It is my hope that these new works present a visual confrontation, an argument with premise that should be critically reviewed and endlessly questioned."

Tsinhnahjinnie has been a recipient of the Eiteljorg Fellowship for Native American Fine Art, a Chancellor's Fellowship at the University of California Irvine, the First Peoples Community Artist Award, and a Rockefeller artist in residence. She is director of the C.N. Gorman Museum at University of California, Davis, and assistant professor in the Department of Native American Studies at UC Davis.

Passalacqua is curator at the C.N. Gorman Museum. For more than 30 years, the Gorman Museum has been dedicated to the creative expressions of Native American and artists of diverse cultures and histories. The museum's reputation of artistic excellence is proven by its company of exhibiting artists, including some of the most established native artists, as well as the next generation of emerging Indigenous artists.

A writer, curator and scholar of native North American art for the past 15 years, Passalacqua earned her bachelor's degree from Harvard University and her master's degree in museum studies from Oxford University. She has submitted her doctorate in museum studies from Oxford University, where her thesis examines political lens-based artworks by contemporary native North American artists.

The exhibition is being extended in response to audience requests and high visitor numbers, as well as increased tour group bookings during its run.

"We are absolutely thrilled to be hosting this exciting collaboration," said Amber Mohr, curator of the Great Plains Art Museum. "I've long admired Veronica Passalacqua's scholarship, particularly her pioneering discussions on visual sovereignty. Bringing new works by Hulleah J. Tsinhnahjinnie, working with unique vintage items from our permanent collection, is placing the Great Plains Art Museum on the cutting edge of contemporary Indigenous arts. Tsinhnahjinnie's work is tough. She twists the knife. It's exhilarating to be presenting such a strong visual voice to our audience."

For more information, go to http://go.unl.edu/9ti or call (402) 472-6220.
More details at: http://go.unl.edu/9ti