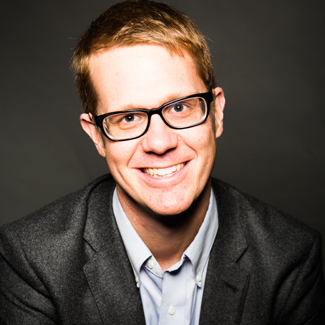 UNL public relations instructor Brian Reid is one of PRWeek's recently announced list of "40 Under 40 2013: The New Trailblazers."

Reid is an instructor in the Jacht Ad Lab, the student ad agency in the College of Journalism and Mass Communications and a full-time PR professional. He is director of BioPharm for New York-based PR firm W2O.

"We are so proud that our UNL students have the opportunity to learn with nationally recognized professionals like Brian, a leader in navigating the changes in communication provoked by digital and social media," said Amy Struthers, an UNL associate professor of advertising who nominated Reid.

Reid said he was humbled by the recognition.

"I've been fortunate to work with two groups, W2O Group and UNL, that are both committed to experimentation and innovation," he said. "Tomorrow, in communications, will look nothing like yesterday, and I can't wait to get to that future."

Reid has thrown himself into understanding the new media landscape and where PR fits, proposing new ways to balance new communication tools with the reality of traditional media's continued reach and authority. As advertising, marketing and PR collide and blur, Reid is developing strategic blends of digital and traditional PR that help his clients succeed.

"Brian has been a key player in W2O Group's growth and evolution over the past several years, and we are very proud to see him honored as one of this year's 40 Under 40," said Jim Weiss, CEO and chairman of W2O Group. "His unparalleled media relations expertise combined with extraordinary thought leadership make him a crucial part of our team and a true leader in the industry."

Jacht student CEO Tiler Grossman said: "His credentials bring a new level of credibility to Jacht's hands-on classroom, while his comfortable style with students make him a highly effective teacher."

Jacht Ad Lab, founded in fall 2010 as UNL's first student advertising agency, develops strategic use of social media, digital production, mobile media and other emerging technologies to help clients reach their business goals. This generates a unique student "ad lab" experience that yields professional and engaging creative work.

Jacht students partner with clients in an experimental environment where there is opportunity to explore, analyze and test fresh ideas in the constantly evolving digital communications space. Jacht is supported in part by Nebraska Global, Bailey Lauerman and Swanson Russell.