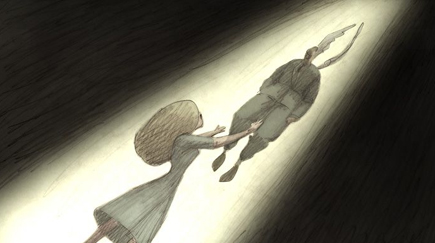 The films "Idiots and Angels" and "A Somewhat Gentle Man" open today at the Ross Media Arts Center.

"Idiots and Angels" (not rated) is George Plympton's dark comedy about a man's battle for his soul. Angel is a selfish, abusive, morally bankrupt man who hangs out at his local bar, berating other patrons. One day, Angel mysteriously wakes up with a pair of wings on his back. The wings make him go against his nature and do good deeds. He desperately tries to rid himself of the wings, but eventually finds himself fighting those who view the wings as their ticket to fame and fortune.

Also showing with "Idiots and Angels" is Plympton's short film "The Cow Who Wanted to be a Hamburger."

"A Somewhat Gentle Man" features Stellan Skarsgard as Ulrik, a somewhat gentle man - as far as gangsters go. Back on the street following a stint in prison, Ulrik's boss greets him with open arms and a plan to settle an old score. The boss sets in motion a plan to right the wrong done to Ulrik. The problem is Ulrik would rather go about his own business, however mundane, than get involved with his old colleagues again. The film is not rated.

Both films show through April 14 at the Ross. For more information, including show times and ticket prices, go to http://www.theross.org or call (402) 472-5353.
More details at: http://www.theross.org