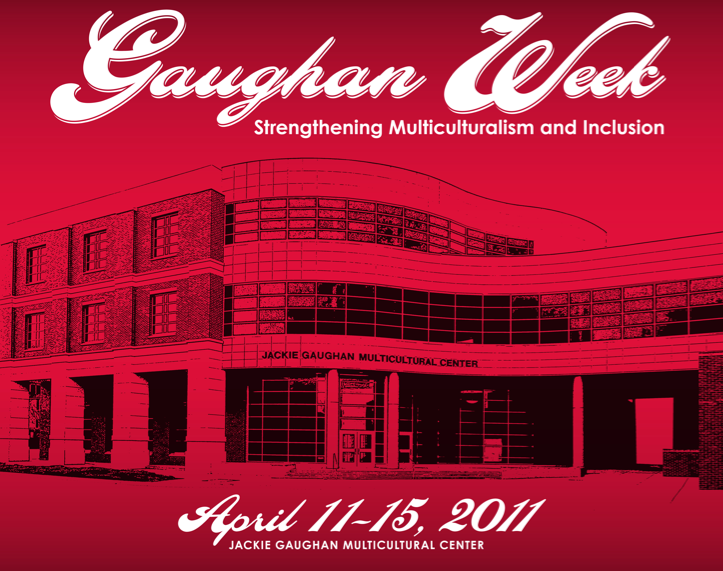 UNL will celebrate Gaughan Week, April 11-15. Gaughan Week events explore the diversity of cultures through activities, performances and presentations.

The week begins with an open house, 11:30 a.m. to 1 p.m., April 11, at the Jackie Gaughan Multicultural Center. The event will include information about programs offered through the multicultural center. Food and free T-shirts will be available.

For more information, go to http://go.unl.edu/u5k.

The Gaughan Week schedule is listed below. Events are at the Gaughan Multicultural Center unless otherwise noted.

April 11
- Kickoff and Open House, 11:30 a.m. to 1:30 p.m.
- Asian/Pacific American Heritage Month Celebration, 6 to 8 p.m., doors open at 5:30 p.m.

April 12
- Break-dancing Club and Hip Hop Dance Club performance, 12:30 to 1:30 p.m.
- Dance Around the World, 7 to 10 p.m.

April 13
- Human Mannequins, see what does or doesn't fit you, 10 a.m. to 4 p.m.
- Seeing the Possibilities: Technology for the Blind and Visually Impaired, 11:30 a.m. to 1:30 p.m.
- Around the World celebration, 4 to 6 p.m.
- Time Machine, an interactive program about morals and decision making, 6:30 to 8 p.m.

April 14
- Greeks on the Yard, noon to 1:30 p.m.
- Athletics and Diversity Panel, 7:30 to 8:30 p.m.
- Karaoke, 8:30 to 10 p.m.

April 15
- No Offense, a display featuring how the media portrays different groups of people, 9 a.m. to 3 p.m.
- Featured speaker Dori Maynard, president of the Maynard Institute in Oakland, Calif., 3 to 4 p.m.
- Def Poetry Jam, 8 to 10 p.m. (doors open at 7:30 p.m.), Nebraska Union Auditorium. Free with NCard, $5 general admission.
More details at: http://go.unl.edu/u5k