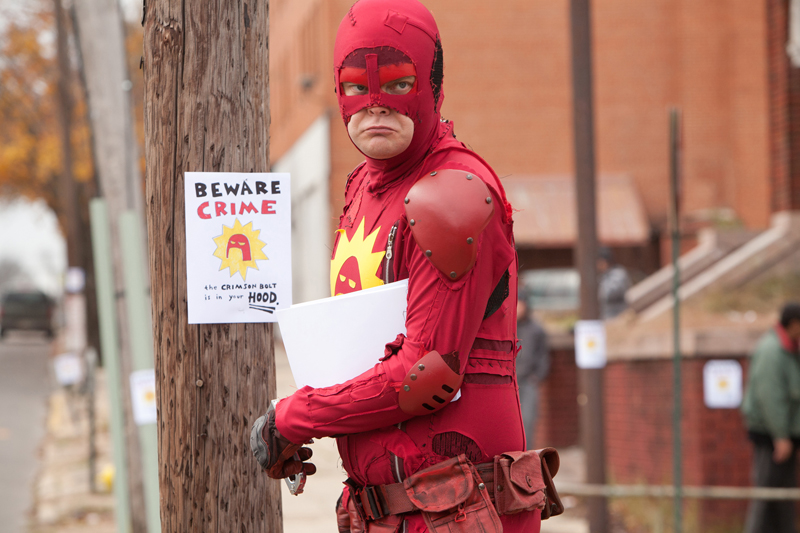 The dark superhero comedy, "Super" opens April 29 a the Mary Riepma Ross Media Arts Center. Also continuing to show is the heartfelt comedy "Win Win."

In the outlandish dark comedy "Super," director James Gunn has created what is perhaps the definitive take on self-reflexive superheroes. When sad-sack loser Frank (played by Rainn Wilson) see his ex-addict wife (Liv Tyler) willingly snatched by a seductive drug dealer (Kevin Bacon), he finds himself bereft and wholly unable to cope. But soon he decides to fight back under the guise of a do-it-yourself superhero called Crimson Bolt.

With a hand-made suit, a wrench, and a crazed sidekick named Boltie (Ellen Page), the Crimson Bolt beats his way through the mean streets of crime in hopes of saving his wife.

A "Super" movie talk led by the Graphic Novel Book Club is 2:40 p.m. May 1. The talk follows the 1 p.m. screening of "Super." The talk is free and open to the public. Admission to the screening is at regular Ross prices.

The Graphic Novel Book Club is sponsored by Indigo Bridge Books. The club was started in 2009 and since then we have read and discussed more than 50 graphic novels. Meetings are 7 p.m., every other Wednesday at Indigo Bridge Books, 701 P St. The next meeting is May 11.

The film "Win Win" follows struggling attorney Mike Flaherty (Paul Giamatti), who volunteers as a high-school wrestling coach and takes on the guardianship of an elderly client in an attempt to keep his practice afloat. When the client's teenage grandson runs away from home and shows up on his grandfather's doorstep, Flaherty's life is turned upside down as his win-win proposition turns into something much more complicated.

Both "Win Win" and "Super" play through May 5 at the Ross.
More details at: http://go.unl.edu/dvb