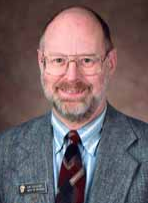 Robert Fuller, professor emeritus in physics and astronomy, will receive the Doc Elliott Award during the Nebraska Alumni Association's awards banquet today at the Nebraska Champions Club.

Winners of the Doc Elliott award must be nominated by colleagues. Recipients must have made a difference in the lives of alumni and gone beyond traditional expectations at UNL.

Fuller worked in UNL's Department of Physics and Astronomy from 1969 to his retirement in 2005. From 1989 to 2005, Fuller was leader of the Research in Physics Education Group.

The Doc Elliott Prize was created in 1988 to honor distinguished UNL professors. The award is named in honor of "Doc" Curt Elliott, a professor of business administration from 1942 to 1968 at the University of Nebraska.

Elliott earned a national reputation as an economist specializing in insurance. However, he was famous on campus for his ability to work with students.

In Robert Knoll's "Prairie University," one of Elliott's colleagues was quoted saying, "So many students congregated in (Elliott's) office that it was often called the western branch of the Student Union."

Elliott mixed entertainment into his rigorous class instruction. He taught by television and lectured across Nebraska. He also was the principal clarinetist in the Lincoln Symphony.

The Nebraska Alumni Association will also honor 23 UNL alumni, eight students and one family during the all-university celebration.

For more information, go to http://go.unl.edu/h63.