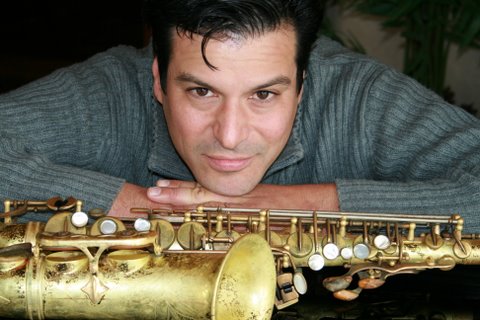 Saxophonist Joseph Vincelli, a New Jersey native, has toured and recorded with the likes of Buddy Miles, Ice Cube, Bobby Goldsboro, Jerry Vale and Burt Reynolds. Vincelli lives in Dallas, where he's recorded 10 albums over a seven-year period and recently finished a 15-year project, a three-volume book series, "My Friend, Music." He also teaches master classes on the music industry.

Vincelli has toured extensively throughout North America and with visits to Brazil, Venezuela, England, Italy and South Africa. His first love at 5 years of age was a fascination for food. He continues to use cooking and eating fine cuisine as a source of creativity, and cooks on stage. More recently, he has developed benefit concerts and contests that bring celebrities and top chefs together in order to raise money for young performing artists, including the Kids Who Care Performing Artists Foundation, in Fort Worth, Texas. For more information, visit http://www.joevincelli.com.

Organized by the Sheldon Museum of Art and many other sponsors, the concerts begin at 7 p.m. and will draw thousands of revelers to sit under the trees on the plaza west of the Sheldon 12th and R streets.

Concertgoers are encouraged to bring blankets or lawn chairs for a relaxing and enjoyable evening surrounded by jazz, outdoor sculpture and sweet summer skies.

Jazz in June concerts are free of charge to concertgoers, but they are not free from expense. This year, Jazz in June will rely on donations from audience members in order to make ends meet. Concertgoers are asked to make a donation of $10 per family, or whatever they can afford, to continue the series.

Activities abound before each concert. Kids are encouraged to take part in the weekly Super Sleuth hunts inside the museum, which begin each week at 6 p.m. New this year, kids can meet Josh the Otter by the fountains in the Sheldon Museum of Art Sculpture garden. Sponsored by Sheldon and the Joshua Collingsworth Memorial Foundation, Josh the Otter helps teach kids about the importance of water safety. A short program will begin in Sheldon's Abbott Auditorium at 6 p.m. and then Josh and the kids will go outside. The Joshua Collingsworth Memorial Foundation will also be doing weekly giveaways at the concerts, including coloring books, stickers and stuffed Josh the Otter toys.

The warm June weather offers the perfect backdrop to tour sites in the UNL Botanical Gardens and Arboretum. UNL's Landscape Services and Facilities Management and Planning departments run the annual tours beginning at 6 p.m. at Sheldon's east entrance.

In conjunction with the performances, the Jazz in June Market offers dinner or shopping. Dinner items, fresh produce, baked goods, ice cream from the UNL Dairy Store and many more delights are available for purchase. The Market opens at 5 p.m. on 12th and R streets and is organized by the Downtown Lincoln Association, the City of Lincoln, and UNL. For more information, visit http://www.jazzinjune.com.
More details at: http://go.unl.edu/uso